Top Real Estate Broker, Frances Katzen, Reveals the Luxury Kitchens and Appliances Manhattan Craves
Top Real Estate Broker, Frances Katzen, Reveals the Luxury Kitchens and Appliances Manhattan Craves
Ranked in the top 10 of total commissions at brokerage firm Douglas Elliman for over a decade, Frances Katzen is a true power player in NYC real estate. She?s on the cutting edge of design in Manhattan?s ever demanding market, where tastes in kitchens and appliances can change yearly.
Routinely clocking in sales in excess of $150 million annually, Ms. Katzen's total transactions are creeping towards the $2 billion mark. She landed in New York from Australia (her family relocated from their native South Africa, disapproving of apartheid) in the 1990s. As a 16-year-old, she sought to pursue a career as a ballet dancer but ended up pirouetting her way to real estate riches. She became the exclusive broker on many of NYC?s newest luxury developments with a global clientele.
A Conversation with Frances Katzen
APPLIANCES CONNECTION: You clearly know what your buyers are looking for. Do developers ever consult with you about what to put in their kitchens?
FRANCES KATZEN: It depends on how far along they are in the project. Sometimes the product is finished, so my input is limited. But there are plenty of times when it?s being created such as
64 East 1st
(the kitchen includes a
Wolf Range
and
Sub Zero
refrigerator) or
60 White St
(appliances include a
24-Inch Wine Storage/Cooler
- with a 46 Bottle capacity, a
36-Inch Refrigerator
- both from Sub-Zero, a
36-Inch Convection Steam Oven
, and a
36-Inch Convection Browning Oven
both from
Wolf
)
AC: Why does the temperature shift towards certain appliance brands and away from others?
FK: As soon as things become mainstream, buyers want things that are less mainstream, so a
La Cornue
range is now something that?s hip and happening. The look and design of things also have a lot to do with it. There was a time when all new developments did dark wood floors. Now everyone is doing light wood, unfinished raw looking floors.
AC: What properties have you walked in for the first time and kitchen has just blown you away?
FK: In terms of its kitchen design,
443 Greenwich
in Tribeca has been really impressive. Nancy Ruddy of
CetraRuddy
does amazing kitchen designs (The kitchens in 433 Greenwich include a
30-Inch Counter Depth Bottom Freezer Refrigerator
and a
36-Inch Counter Depth Bottom Freezer Refrigerator
with a glass door both from
Sub-Zero,
a
Wolf 48-Inch range
, and an
espresso maker
, two dishwashers, a
24- Inch wall oven,
24-Inch warming drawer
, and a
wine fridge
all from
Miele
).
They have a beautiful mix of old and new with materials. Nickel, wrought iron, marble, wood. Opulent and rustic at the same time. She has a lovely mix.
I also love the
Scavolini
kitchens. We are doing Scavolini at
108 Leonard in Tribeca
. Its build out is very beautiful and functional. It?s hi-tech but at the same time, you can use them in pre-war buildings.
AC:
The Charles
on The Upper East Side is another building you?re involved in. The look is a very light and airy and clean.
FK: I think (architect)
David Collins
did a beautiful job in changing the standard by making it so sophisticated in its finish. It?s a beautiful sensibility of modern mixed with functional. A beautiful big slab cut corian, good eat-in kitchen stations, great storage. I think it?s timeless and won?t ever go out of fashion. (The kitchen also includes a Sub-Zero refrigerator and
wine cooler
along with numerous appliances from
Miele
:
A five-burner gas cooktop
with vented exhaust hood,
a black oven, speed oven
and
microwave
and also a
dishwasher
.)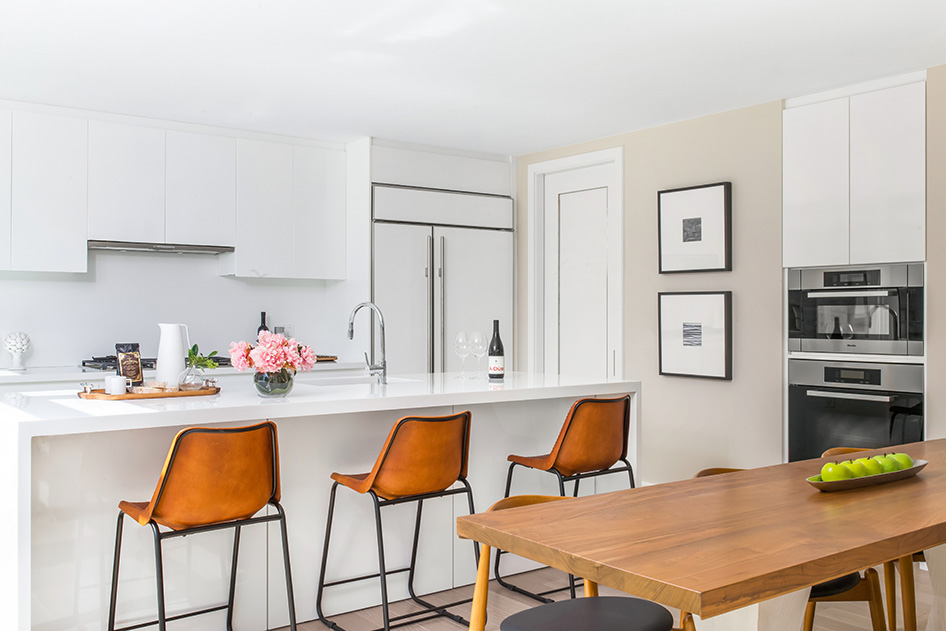 AC: Miele certainly seems to be popular with developers at the moment FK: Firstly they?re great appliances. They have a great warranty, the product is beautiful. I have their dishwasher at home. I?m obsessed with it, strange as that sounds! Beautiful.
AC: Is it a competition with developers to see what appliances they put in their kitchens?
FK: Of course! They all want the latest, the most cutting edge. The more of that they have the more desirable a property becomes because it?s different, trendy, ahead of the curve. Also, it comes down to the bottom line in terms of total cost for the developer. If they can get a package deal from a vendor that makes them save $50K per apartment I think they?re gonna do it.
AC: How influenced have you been from the houses you sell in decorating your own properties (Ms. Katzen owns homes in Manhattan and the Hamptons).
FK: I don?t like my own home to look like a development but I do like the high-end appliances and products they use, so I like mixing those with things that look and feel a little more curated. An appliance on its own won?t make your place look really good. It has to be matched with the right things. Many smaller developers think they should go with big name, expensive appliances. The appliances are only as good as how it all comes together in terms of the final look.
AC: If someone was looking to sell a property in a decent location but the kitchen needed work. What would you advise them they do?
FK: Appliances, one hundred percent. Basically, they?d need to get stainless steel range, 4 footer, Sub-Zero refrigerator between 36-inch to 48-inch. Miele dishwasher. Wine refrigerator. Could be a
Marvel
but most people want
Viking
. These help sell houses, no question.