The Hottest Kitchen Design Trends And Appliances To Match
Creativity has found its way back into kitchen design. Colorful cabinets, gold, bronze, and brass pulls, and unique lighting everywhere. It's almost as if Studio 54 has landed in your home with a contemporary twist. Then there's the Joanna Gaines influence - rustic shelving, natural woods, patterned concrete tiles. Kitchens are having their moment. Gone are the days of standard wooden cabinets, granite countertops, and basic stainless steel appliances. Today's kitchens are a smorgasbord of styles that run the gamut. Your trip to make a sandwich will never be the same.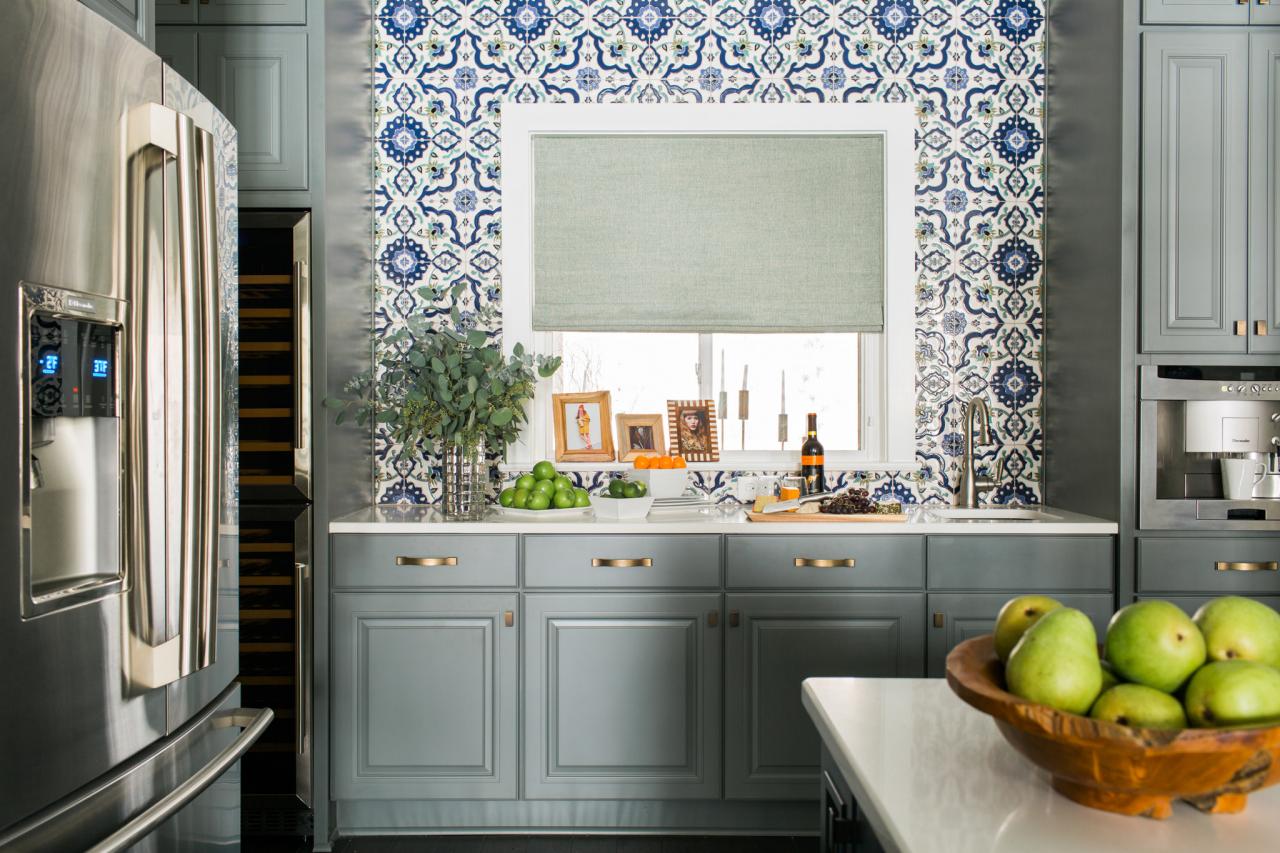 Cabinets
Nowhere is this bold new stance more evident than with cabinetry. While many homeowners are overwhelmingly going for white cabinets, light grey and pale blues are also becoming popular. Interestingly, so are bold blues, greens, and even reds.
I would still say that the really bold colors such as the blues and reds are only a small percentage of our customers, says Scavolini (Brooklyn) kitchen designer, Muna Irsheid. But it is growing. There are some truly beautiful new cabinet styles out there such as the Flux design from Scavolini. It has a metallic, gloss lacquered finish, similar to what a car has which makes it easy to clean and extremely resistant to damage.

Walking over to the Flux cabinets in the showroom, Irsheid pointed to the circular island and sleek Miele appliances.

The appliances have to match the look, she says. For this, you need something that blends seamlessly. Miele is good for that very cool, unobtrusive look. The appliances in the showroom with the Flux cabinets include a 30-inch convection oven (H6180BP) from the PureLine Series, a 30-inch warming drawer (ESW6880), along with a 24-Inch built-in coffee system (CVA6405). Underneath the coffee system is a Miele 24-inch single wall oven (H6180BP) from the ContourLine SensorTronic Series.


For more industrial style kitchen, Irsheid recommends Wolf appliances.
"They have a certain toughness to them," she says pointing up to an impressive 36-inch Pro Style Mount Ducted Hood (PI363418).

Although painting cabinets may be a cheaper way to go to add color, the results aren't always long lasting, particularly when compared to factory finished color. One option homeowners may want to consider when updating their cabinets may be to simply purchase new cabinet doors and replace the base fronts to match, saving money and upgrading their kitchens for a fraction of the cost of completely new cabinets.

When it comes to versatility, white shaker cabinets accommodate the greatest number of matching appliances.

You can't go wrong, says Ms. Irsheid, walking over to a stunning dark/light kitchen layout. These are white and lacquered which is very modern but then the shaker style is also traditional. The clean lines make them modern so you can have any type of appliance and it will work. Here we have the Dacor Modernist appliances which are dark and very contemporary and they work perfectly with the Shaker cabinets, she says.


Another trend Ms. Irsheid has seen recently is concrete styled cabinet facades.

I know it sounds odd but they can actually very be very effective, especially with the rustic/industrial look,she says.
Countertops
There's no question that quartz is the way to go at the moment, says Ms. Irsheid. It mimics marble but is much more resistant and very versatile. Like marble, it can allow light to shine through it, but it can also almost appear industrial and metallic.


Stainless steel and concrete countertops are also perennial favorites for contemporary and industrial looks.
Open Shelving
This is another recent trend which plays into the idea of the kitchen as a gathering space as opposed to just a place to prepare food. Open shelving blurs the line between the living room and kitchen, with shelving often placed at the border between the two. They're a great place for cookbooks and magazines. Open shelves generally aren't robust enough to store flatware or small appliances though industrial style shelving supported from the floor with metal frames can hold more weight that shelving affixed to the wall. They're also great places to add decorative flourishes - plants, candles, attractive bottles. The idea should be to keep the shelves spare or run the risk of looking cluttered.


Tech Savvy
It's inevitable that technology will play a greater role in kitchens and while being WiFi and Bluetooth compatible may not help you to become a better cook it may help you keep the refrigerator (such the 36 Inch Counter Depth French Door Refrigerator from Samsung) stocked with the right ingredients or have your pizza piping hot by the time you get home (see GE Cafes 30 Inch Electric Single Wall Oven). Old school chefs may balk at the idea of controlling their appliances via their phone but for millennials, it will be second nature.


Let There Be Light
Pendant kitchen lighting is still popular these days, but quirky pull-down office desk type lamps and metallic statement pieces are invading industrial kitchens. Equally in-cabinet, under-cabinet and even in countertop lighting are becoming more common.
Hand pulls
Until fairly recently, stainless steel hand pulls had this category on lockdown. No more. The arrival of bronze and brass accent fixtures makes it seem like 1960s and 1970s just sprung from a time machine and slapped you in the face. These, coupled with the trend in painted cabinets and velvet sofas and headboards elsewhere in the house will have you searching for your Barry White records.
Appliances
The game has started to change. Okay, so we haven't quite gone back to avocado green and harvest gold appliances of yesteryear but brands such as SMEG and Bertozzoni aren't far off, bringing a paint swatch into the kitchen with a myriad of different hues to choose from. And let's not forget Whirpool's Sunset Bronze line of refrigerators, dishwashers, and ranges.Whirlpool seeks to knock stainless steel off its dominant perch with this finish.Suddenly those bronze hand pulls don't seem so out of place.