Discerning owners of washers and dryers from Speed Queen already know the factors branded into the company's DNA – quality of wash, durability, reliability, and value for money. Though they manufacture mid-range washers and dryers, Speed Queen has taken on the guise of producing high-priced laundry appliances, both in their residential and commercial models.
There's a reason that Speed Queen washers and dryers are expected to last for 25 years. The company has over 180 engineers focused on creating the best machines in the industry. This includes a 5-stage product development process designed to push machines to the limits of their capabilities. Each component is rigorously tested to withstand at least twice its expected life cycle.
The appliances are backed by one of the best warranties in the industry for certain models: 3 years for their TR3 line of washers and DR3 line of dryers, 5 years for their TR5 line of washers and DR5 line of dryers, and 7 years for their TR7 line of washers and DR7 line of dryers. It covers any defect caused by the manufacturing process for the term of the warranty.  No wonder Speed Queen's reputation for quality and dependability precedes it.
A Look At Speed Queen Residential and Commercial Washer/Dryer Pairs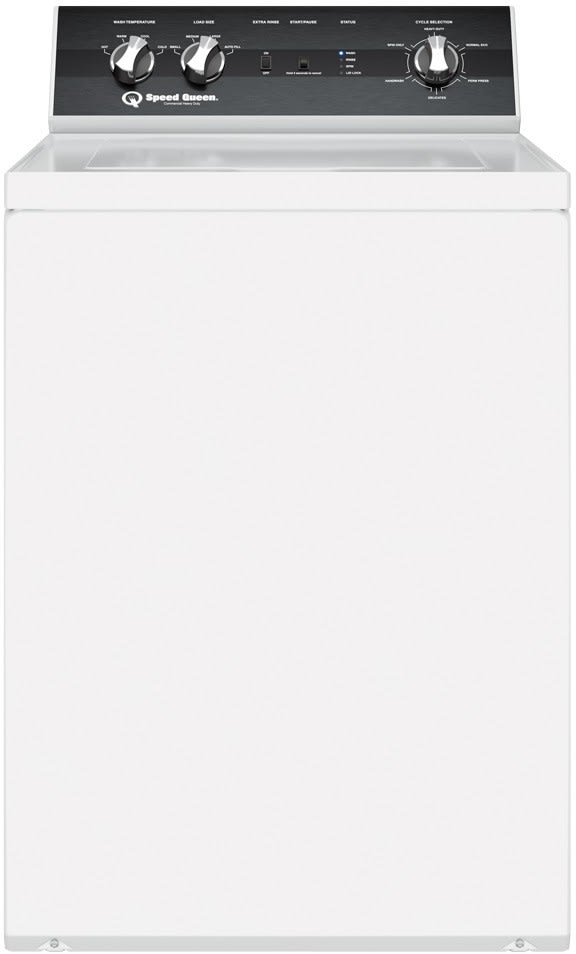 Combining brawn with tenderness, this model not only has all the hallmarks of a Speed Queen washer – durability and efficiency, but also takes tremendous care of your clothes. The solid mount suspension ensures that no matter how hard the appliance works it won't broadcast its efforts to the rest of the house.
Features:
Top Load Washer That Delivers Every Time. This 3.2 cu ft. capacity washer consists of all stainless steel components and moves the maximum amount of water through the clothes providing a premium wash.
Higher Level of Performance. Though, this is a residential model is tough enough for use in a commercial setting. It has a durable 3-coat finish, porcelain steel outer tub, and 1 HP Variable Speed Motor.
Full-Size Agitator. The agitator in this washer works in tandem with the tub for a gentler wash than other traditional agitator models.
The Perfect Wash. The guesswork is taken out of the choosing how much water you need for your load by auto-filling based on the load volume.
Commercial Grade Electronic Controls. These are tested to 400 cycles and the electronic touchpad is designed to be pressed a million times. That's a lot of washes!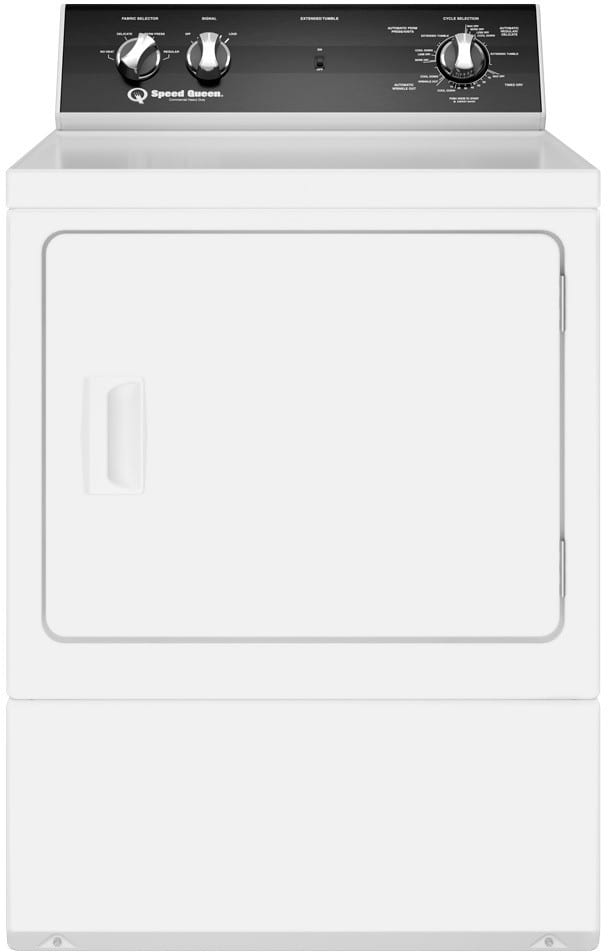 Keeping with the company's ethos of providing robust appliances that care for your clothes, this gas dryer, with a cavernous 7 cu. ft. capacity, has 4 preset cycles, 3 automatic dry cycles, and 4 temperature selections. This ensures that whatever your load, this model has got you covered.
Reversible Door. Allows configuration for ergonomic convenience
The Perfect Dry. This is achieved by finding the ideal balance between drying temperature, airflow, and mechanical action.
Advanced Eco-Cycle. This uses a heating precise algorithm to conserve energy while achieving an optimal dryness
Interior Light. Illuminates the dryer when the door is opened
Upfront Lint Filter. Allows a fast cleaning and safe operation