It's no coincidence that the Perlick Corporation, which specializes in under the counter beverage refrigeration, hails from Milwaukee, Wisconsin. It's often touted as the beer capital of the world and is home of brewers such as Pabst, Schlitz, and Miller. With such a demanding client base Perlick, which has been family owned since 1917, has perfected the art being and staying cool.
A Brief History Of 5 Important Dates
The company was started by Robert K. Perlick and his son Walter on Reed St. in a small machine shop specializing in brass work for the automotive and brewing industries.
The Thirties
In early 1933 the company introduced mechanical refrigeration (now simply known as refrigeration) to aid in the transition of ice boxes.
In 1938 they pioneered the Direct Draw beer System which, as the name suggests, pulled beer from kegs and dispensed it at the bar. It marked the beginning of the company's innovative bar and beverage product line.
Changing The Nature of Sports Events
Flash forward to 1964 and the Century Beer System debuted in restaurants at The New York's World Fair. Technically, it was the world's first glycol beer system. This uses a secondary refrigeration unit, a glycol chiller, to maintain draft beer at the proper temperature all the way from the cooler to the point of dispense. It uses a food grade anti-freeze, glycol capable of transporting beer 100 feet. This proved essential at large gatherings such as sporting events. Baseball has never been the same!
Decades ahead of the competition in 1970, Perlick used sheet metal to produce stainless steel underbar equipment and designed custom bars.
Accolades And Milestones
The accolades have kept coming in recent years. In 2012 the company won the Good Design award for its Shallow-Depth under-counter refrigeration. Its slimline 18" deep size was an industry first.
The following year Perlick introduced a new generation of back bar refrigeration (which keeps kegs, beer, glasses and wine on top of it cold) with options for a simply amazing 4.7 billion configurations with dispensing options.
In 2015 Perlick relaunched the Shallow-Depth Series as "Sottile".It also unveiled the Tobin Ellis Signature Cocktail Station. It was a collaboration with six-time national bartending champion and bar designer, Tobin Ellis. The same year, the company also released ArcticPOUR and their Forward Sealing Faucet.
Residential Refrigeration
A groundbreaker in commercial beverage refrigeration, Perlick's cooling systems are an industry standard. Beverages are uniformly cooled throughout their fridges to the exact temperature required, differentiating them from other brands. Their stainless steel interiors have – a century after Perlick first introduced them because of their ability to stay clean and cool – been adopted by mainstream luxury residential appliance brands. Thus, it made sense for Perlick to make the move itself. In 2004, they introduced their flagship residential line – the Signature Series featuring 24-inch, 48-inch and 72-inch under-counter refrigeration. It added its first-ever line of 32-inch tall under-counter refrigeration in 2009 – the ADA Compliant Series.
Currently Perlick Residential offers the widest selection of under-counter refrigeration – a jaw-dropping 137 industry exclusive models. All are built with the robustness to handle a commercial environment but with the refinement for the home.
Innovative Cooling Solutions
Getting & Staying Cold
Perlick's refrigeration relies on four main pillars. Its exclusive RAPIDcool technology uses a forced air system to pull down product temperature twice as fast as other brands. The temperature stability it enables is a must for food safety.
Thermal Glass
The glass doors to Perlick refrigerators feature Low E, Argon filled dual-pane thermal glass with UV resistant coating. This eliminates energy transfer through the glass and increases strength. It can be utilized both in the home and outside on the patio.
Stainless Steel Interiors
Perlick pioneered the use of stainless steel in their refrigerators decades ago. While other luxury brands persisted in using plastic, Perlick was aware that stainless steel not only kept a uniformly cool temperature but was also sanitary (it doesn't rust or harbor stains or mold) and is easy to clean.
Metal Shelves
Lastly, Perlick has pioneered the use of metal shelving inside their products. While other refrigerators use glass, Perlick reasons that glass does not allow cool air to circulate, making the environment inefficient.
Awards
When Perlick touts themselves as the best, they have the proof to back it up. For 14 years in succession, they have received the Best-in-Class Underbar Fabrication. Votes from operators, dealers, and consultants in the Foodservice Equipment and Supply Magazine's annual survey determine the award. Seven performance categories are taken into consideration: product quality, product value, product design and aesthetics, service and support, sales representation, product inventory and availability, and product information availability.
Indoor Design Solutions
With 137 different products to chose from, Perlick has something for every type of cold beverage requirement and configuration. From refrigerators to wine reserves to beer dispensers, aging-in-place designs, outdoor models and more. Perlick brings the bar to the basement and beyond.
The Advantages of Going Below The Counter
Perlick has evolved the below counter refrigerator system to match upright models. The 24-inch Signature Series Dual-Zone freezer/refrigerator drawers and the 24-inch Signature Series beverage center are two of the company's most popular residential models. The advantages of below counter refrigeration are clear – ergonomics. It preserves counter space, allowing a continuous flow without interruption.
The Perfect Partner For Craft Beer
The current popularity for craft beer plays right it Perlick's hands. Their accessory "S" System Lo Boy Keg Coupler allows homeowners to tap into kegs of popular Europeans brands such as Heineken, Stella Artois and New Castle – a must for the ultimate beer connoisseur. The 24-inch Signature refrigerator is capable of holding 62 cans and 40+ bottles. This bar standard refrigerator, along with all Perlick models, features full extension pull out shelves. If space is a concern, there is also a 15-inch refrigerator from the same series.  In fact, all refrigerators come in 15, 18 and 14-inch models to match common counter sizes.
This features all Perlick's signature features, RAPIDcool, Low E, UV-coated glass, stainless steel construction, and full extension pull out shelving. It may be small but it packs a powerful punch. A 995 BTU variable speed compressor keeps the unit effortlessly cool. It has enough storage space for 16 wine bottles and 62 cans. Bright illumination is provided with adjustable LED lighting which can go from a barroom bright, Crisp White to a boudoir Cool Blue.
This built-in refrigerator consists two of Perlick's cooling superstars – a 24-inch right solid door column refrigerator (CR24R12R) and a left hinge solid door column freezer (CR24F12L), along with various panels and accessories. Both appliances feature Perlick's advanced cooling technology and trademark stainless steel interiors.
Setting the refrigerator apart from its competitors are four zones of separate precision cooling, known as QuatroCool.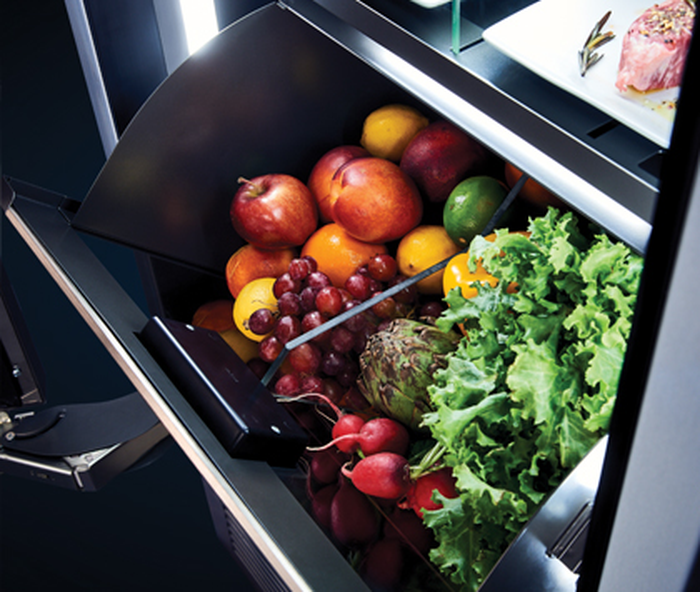 These consist of the main cooling compartment, a deli drawer, a fish/meat drawer, and a tip-out produce bin. All areas are controlled via an internal sleek touch-screen control which controls Sabbath mode, as well the internal temperature which can be adjusted in one-degree increments.
High Drama
This refrigerator brings a sense of high drama with its slate-black and brushed-stainless-steel interiors. These are juxtaposed with striking LED roll-on theater lighting which brings out the vibrant colors of the food contained therein, particularly those in the tiered deli drawer. It's a feature inspired by high-end delicatessens and also provides double the storage of conventional refrigerator drawers.
Handy Features
Other features include spill-proof glass shelves which are arranged in a split shelf style to maximize light dispersion. A hydrophobic barrier stops liquids and contains spills. Another handy feature is a slide-in marinating pan made of commercial grade stainless steel.  No more taking up valuable space with bowls and dishes for this purpose.
As refrigerators go, this is one of the best.