Building An Outdoor Entertainment Area For Autumn
Building An Outdoor Entertainment Area For Autumn
Just because summer?s over it doesn?t mean an end to outdoor entertainment. Until we're in winter's icy grip, autumn is a great time of year to stave off the oncoming chill by having friends and family over for fall patio fun.
Appliances Connection has everything you need to build the best outdoor entertainment area for autumn. Here are some essentials to consider as the leaves turn and the coats come out.
Click to jump to the following sections:
Outdoor Food Preparation
A company aptly named, outdoor kitchens from
Alfresco
?look fantastic and perform even better. That?s because they not only specialize in appliances but custom island design too. Thus, the entire outdoor kitchen is holistically and meticulously designed with ease-of-use and functionality in mind. Their?open-air culinary systems will certainly be the centerpiece of any, pardon the pun, alfresco fete. First, let's take a look at some of their appliance offerings.
Outdoor Cooking?
This
56-inch built-in all natural gas grill (ALX256N)
comes complete with 770 sq. inches of grill surface, a warming rack, side burner, and a rotisserie. The grill itself consists of three high-temperature stainless steel main burners, capable of blasting out a total of 82,500 BTUs (27,500 per burner) so you'll be able to get the perfect sear on a lamb chop or a thick cut of halibut.
The two side burners are each capable of 17,000 BTUs. It's perfect for juggling side dishes like sauteed?asparagus and shiitake mushrooms while you mind the main course. At 7,000 BTUs, the smoker burner will be able to handle the hardest most flavorful woods like hickory and mesquite to really make your smoked foods pop.?The rotisserie burner can achieve 18,000 BTUs to ensure the outside of the chicken or duck you're roasting gets fully cooked before you go low and slow.
Another nice feature on the rotisserie is that it's?operated by a motor with chain drive. By integrating the motor into the grill, all workable components are?contained seamlessly under the hood. This is not only aesthetically pleasing but makes for a more efficient, easily used accessory as there is no need for a spit handle.
The space-saving ?up? position of the warming rack allows it to be a permanent fixture of the appliance even when the rotisserie is being used, which means awkward dismantling?is not part of the equation.
This grill will last for years of robust use because of Alfresco's proprietary innovation, the protective air curtain. This allows cool air to flow up between the front control panel and firebox which prevents damage to key components like the ignitor and keeps controls cool to the touch. This continues to work even when the hood is closed for long periods of time.
A powerful appliance calls for serious lighting, especially for the dark autumn evenings. Two super-bright, heat-resistant halogen lamps positioned at each end of the hood provide complete illumination.
Outdoor Refrigeration

The perfect complement to the grill above is?a?
44-inch built-in under grill refrigerator (ARXE42)?
also from Alfresco. Mise-en-place means "everything in its place". This is the concept, in professional kitchens, that all necessary items are close at hand and intuitively positioned. This is a critical component of cooking. This refrigerator will certainly optimize your mise-en-place.
The 1,000 BTUs all-weather cooling system uses dual interior fan-driven evaporator coils to evenly keep the refrigerated compartment at the optimal temperature. Your cooking ingredients will be perfectly preserved no matter how swelteringly hot it might get outside. Whatever you're storing, the ideal temperature can be selected using a digital control with lighted display.
The marinating drawers slide easily in and out. Their?food pans are removable so when you need to put kebabs or a skirt steak on the grill, all you have to do is reach down. This ergonomic outdoor refrigerator epitomizes "mise-en-place".
Free Alfresco Design Services
In addition to manufacturing superior outdoor appliances, Alfresco employs an expert team of kitchen designers. They have decades of experience drafting plans for countless outdoor kitchens. They're able to put this background and proficiency at their disposal to put together the perfect open-air cooking and entertaining space no matter the size or layout. The best part is, these services are offered for free to Appliances Connection customers with no purchase necessary. Click below for details.
Outdoor Heating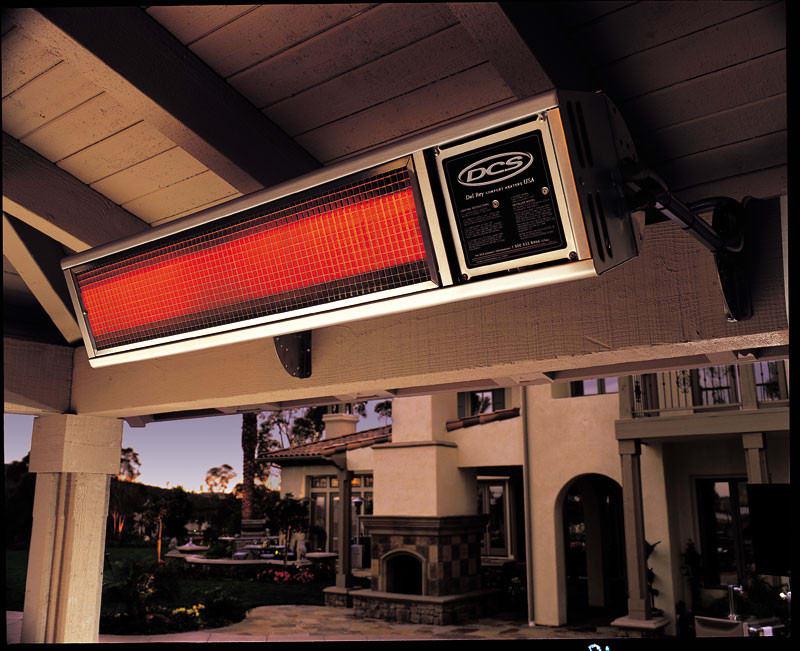 DCS
offers this?
Del Rey 48-inch built-in natural gas patio heater (DRH48N)
,
?a perfect companion for chilly autumn nights. The unit is easily mounted to eaves or awnings. It is plumbed to a natural gas line to provide an intense 58,000 BTUs/hr high heat output. It can generate comfortable heat up to 15 feet away.
With a quality stainless steel exterior, this robust appliance is suitably rustproof for outdoor use no matter what the weather. It can be controlled with a wall-mounted switch. Included as standard are extensions, a mounting kit, and a transformer.
Outdoor Ambience
Sometimes you need more than just practical when the autumn gloaming creeps in. An open flame lends a spirit of?fellowship and conviviality to gatherings. That's what you'll get with this
48-inch square patioflame table (GPFTS48BZ)
from
Napoleon
.
The table has in its center a glass ember bed which reflects flames and withstands high heat. This is framed by an attractive modern and elegant Square Patioflame Table which will match any d?cor. Its flat rustic bronze finish (it actually gives the impression of wood from a distance),??when matched with the glass ember bed, creates an upscale, sophisticated look, An ?Easy ?Start? ignition dispenses with the notion of lighter fluid, wood, matches, and kindling.
https://www.youtube.com/watch?time_continue=10&v=UUGuY3A_rw0 The table also comes with a cover which can be placed over the flame area when not in use, so it can double up as a full table for use when the fading sunlight and the sizzle of your grill are enough to take the chill out of the air.?There is an area under the table bass which houses the propane tank.? The fire burns to at heat energy of 60,000 BTU?s. The Topaz Ember Bed, Table Cover, Table Burner are all included.
Outdoor Shading

Sometimes an autumn celebration doesn't go to plan. An Indian summer could find the sun beating down or a bit of bad weather might bring an unexpected shower.
Shadowspec
has you covered with?the
Quattro 8-foot 2-inch square umbrella array (KITP6SQ25QTOGATCAA)
.
&t=62s The deployment of this expansive canopy system is via a gas-assisted strut so it is smooth and effortless. The mast and spokes supporting the umbrella are heavy duty, marine grade,? powder-coated aluminum and stainless steel.?This is non-corrosive and can withstand being kept outdoors all year 'round. The canopy is made of a 100% solution dyed acrylic canvas fabric.
When fully extended each canopy spans just over 8 feet and four umbrellas can be mounted from one mast. The net result is a guaranteed rainproof soiree. The brilliant LED lights ensure that there will always be plenty of illumination, day or night.
Outdoor?Furnishing
Now that everything else is squared away, people will need to need to lounge and/or dine.?
Signature Design by Ashley
has just what you're looking for with this
7-piece outdoor patio set
from their
Tanglevale Collection
. The focal point of this set is a?
patio table with two extension leaves (P557635)
. It combines an elegant aluminum lattice design with a robust all-weather powder coated frame. The
four 36-inch chairs (P557601A)
come in an?eye-catching burnt orange color and the
two swivel end chairs (P557602A)
also have the ability to rock back and forth. This is set is enduring in style and?longevity. It will bring a warm glow to your outdoor activities in autumn and any other time of the year.