There's a been a movement for the past few years to soften up the home, particularly the kitchen.  It goes further than mood lighting, wood floors, and mosaic backsplashes. Natural elements have been sweeping the design scape, fostered by TV renovation shows and interior décor websites. Whether it's shiplap, reclaimed wood shelving, butcher block countertops or sliding barn doors, the movement away from sterile modernism is in full effect.
Kitchen appliances cabinets, flooring, and backsplashes are all getting in on the act. The latest trend in kitchens takes this theme and runs – to the Southwest desert region and into Latin America, creating a new aesthetic – Desert Chic. It's even beginning to be seen outside buildings as well as in.
Exterior
Bored of the shiny glass-sheathed buildings that made up the majority of Manhattan's high rises, Scott Shnay, the junior half of the father-son team that runs SK Development, yearned for something different. He found it, according to the Wall St. Journal, when his architect, Annabelle Selldorf, showed him some terracotta that was lying around in her office. Now it embellishes the façade of 10 Bond St in lower Manhattan.
Other buildings in Manhattan have been following suit (301 East 50th Street and 1 Great Jones Alley are just two examples), cladding their buildings in natural stone. This is a theme championed by vaunted architect Robert A.M. Stern, but the Desert Chic approach takes it to another level with a warmer look than Stern's preferred media of brick and limestone. Carol Loewenson, president of the New York chapter of American Institute of Architects, said developers are seeing that "sustainability is not just achieved through glass" and they are "responding to the values of humans."
Interior
It follows then, that the values of humans are reflected inside as well as out. Terracotta floors were popular in the seventies and eighties and have long been associated with farmhouses and Mediterranean villas. The big news is that they are back and have infiltrated the American urban landscape.
The vibrant orange/red/brown tiles, like an autumnal carpet of leaves, match well with both light and dark cabinetry and the wood and brass elements becoming de rigeur. Similarly, its color is so far away from most appliances that both stainless steel and painted ranges and panel ready refrigerators and dishwashers are good matches.
Dark Terracotta
If the traditional orange toned tiles are too much for buyers, the good news is that terracotta comes in a darker brown/black tile which has the natural earth tone and durability of traditional terracotta with a cool design element too.
Zellige Tiles
You've probably noticed Zellige tiles in bathrooms and kitchen backsplashes everywhere without knowing their name. They are glazed terracotta and originate from Morrocco and are also on the comeback trail in retro-chic kitchens and baths. Their color versatility makes them favorites for pairing with cabinets and appliances.
Cement Tiles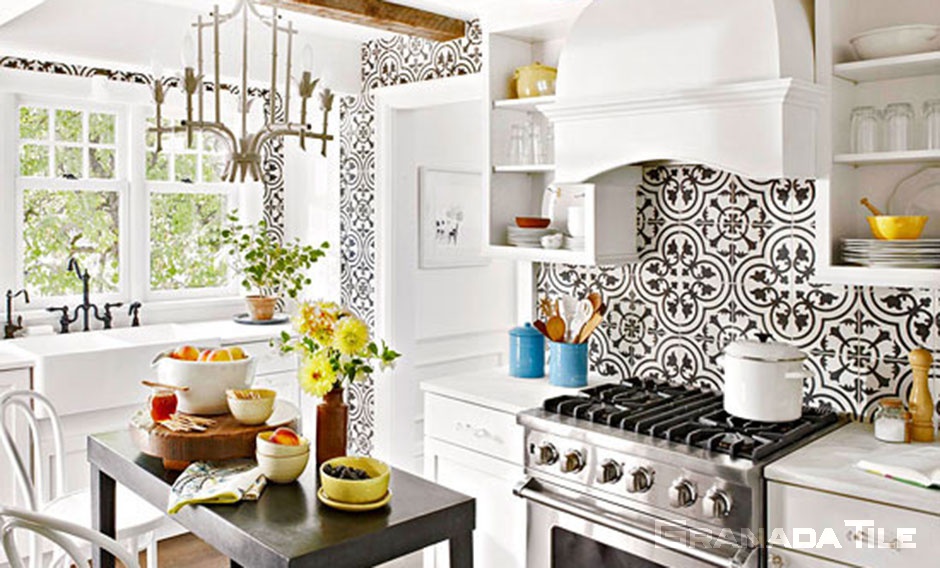 Cement tiles come in many configurations but nothing says Spanish or specifically Mexican (and for that matter, Moroccan) influence more than patterned cement tiles. Desert Chic kitchens implement these spectacularly. Known for their vintage beauty, they add flair and vibrancy to a kitchen design when you keep the cabinets and flooring more formal and monotone – think greys, whites and dark blues. Similarly, they work with a large cross-section of appliances, whether painted or stainless steel (as with the Viking 30-inch gas freestanding range above). The rustic Mexican style kitchen below, with terracotta, paved floors, is an avalanche of color. The stainless steel Thermador dual fuel 48-inch range is a relief to the eyes.
Navajo
Think Navajo and you'll think, desert, cacti and distinctively patterned fabrics. What you would not expect is that it would appear in some of the coolest kitchens around town on both east and west coasts. Moody desert skies, aqua shades, rustic materials, and geometric patterns. Sometimes a simple rug is enough to warm up the busiest room in the house.
Exposed And Reclaimed Wood
Exposed wood is nothing new. However, it is no longer limited to walls and doors. In a Spanish/desert themed kitchen, wood can be found on the ceilings, floors backsplashes, and open shelves. Even faux taxidermy wooden deer heads are making appearances in and around the dining table. Mix and match with contemporary lighting, paint, and appliances for a hip kitchen retreat.