The income of the average middle class American is about $60,000. That means most of the population will not be rushing out to buy a $10,000 Viking range when they plan on remodeling a kitchen. If you fall into this income category, you will have to be judicious in purchasing appliances that give you the most bang for your buck, while, of course, looking like you broke the bank.
Assuming that your layout is remaining the same and that all your appliances are standard sizes (30-Inch range, 36-Inch refrigerator and 24-Inch dishwasher) here are some of the things you will have to consider.
If you already have a conventional range which you need to update, the easiest thing to do is to simply replace it with another one of the same size. Modern ranges tend to have the knobs facing forwards or have discreet digital displays. They also have quality convection ovens in them. If you are able to do much of the work in the remodel yourself, it will pay, in look, functionality and utility costs — not to mention resale of your home — to go a little more high end with the appliances without hurting the budget.
Gas or Induction?
You may want to consider your mode of heat. Serious cooks have long preferred gas. The benefits for high heat cooking with gas have long been documented. However, induction is making great strides in the US. Induction cooking directly supplies the energy to the cooking vessel through the magnetic field and in this respect is more efficient than gas and electric. Also, clean-up's a breeze as there is just one flat surface which can be wiped down.
Mid-priced brands to consider: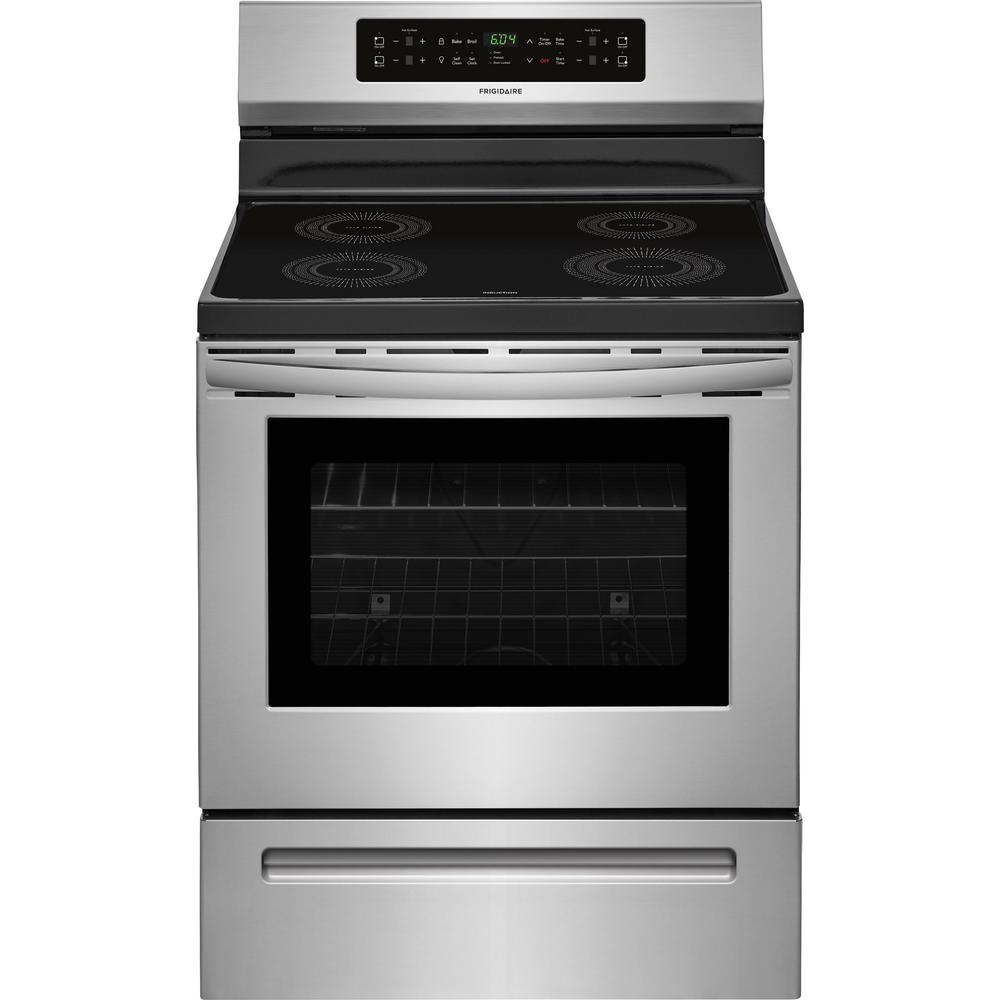 Frigidaire's FFIF3054TS is a 30-Inch Induction Free Standing Range which is incredibly affordable. More expensive but still favorable in comparison to others is GE Profile's PHB920SJSS. It will certainly be a conversation piece when friends come over to check out your new kitchen. Around the same price range is Samsung's NE58K9560WS . All 30-Inch Induction Free Standing Ranges are priced considerably less than many of their competitors.
When it comes to refrigerators, most people opt for a 36-Inch model, kitchen size permitting, and typically a French door design at counter depth. GE Profile has many such models at different prices. The  GE PZS22MSKSS is a popular model as is GE Profile PSS28KSHSS. Electrolux has two popular appliances in this range, the Electrolux EW23CS75QS from their Wave-Touch Series and the Electrolux EI26SS30JS from their IQ-Touch Series. Frigidaire's Gallery Series keeps pace with the other two brands. The Frigidaire FGHB2868TF is one such model.
Strike a deal
When it comes to dishwashers and microwaves, the savvy remodeler, having already purchased a range and refrigerator should be able to strike up a deal. Appliances Connection has such bundles on many mid to higher end brands.
To give guidance how to budget your remodel the National Kitchen and Bath Association has provided the following outline:
Cabinets: 30%
Appliances: 14%
Countertops: 10%
Lighting: 5%
Plumbing fixtures: 4%
Two areas where it's hard to save money for the novice remodeler is with plumbing and electricity. If you choose some sort of natural stone countertop it's also difficult to shave numbers off the cost. Lower grade granite or a even formica (they have improved considerably) could be a way to go. One area where you can definitely make savings is with the cabinets. As they are by far the biggest cost in the remodel, if they are in decent shape, refinishing them is a wise choice. It will cost costs around $100 in materials and a couple of days' sweat equity. If the cabinet doors are dated, simply replacing them for something hipper with contemporary handles is a relatively inexpensive quick with profound results. You only have to match the cabinet fronts with the doors and you're good to go. By taking these savings and funneling them back into your appliances your new kitchen will have the wow factor at a "wow, how did you it"  price.