What is house hacking you ask? It may sound vaguely illegal, but worry not. It's a legitimate technique that many homeowners are using to save money or even live in a home rent/mortgage free. It's part of the tiny house/micro-apartment/Airbnb revolution that is sweeping the real estate industry. In the age of the gig economy, everything can be monetized to earn an income, including your own home. House hacking is usually defined as owning a multi-unit property and living in one of the units yourself, with your tenant(s) contributing to some if not all the mortgage. But in this article, I'll take things one step further. What if you don't have a multi-unit home, only a single-family home with a finished basement? Can you still house hack? Yes, but it will take discipline.
House hacking isn't for the faint-hearted. Renting out a basement is illegal but you are allowed to live in it if you are the legal owner of the property and it is finished*. In a single family home, it means foregoing a kitchen, so scratch any plans for dinner parties, Thanksgiving, kids, pets and basically anything that involves more than one or two people living fairly spartan lives. It also means that in order to not live on take-out or spend a good chunk of your time in the laundromat, you need to buy small appliances to cool, cook, and clean your food, dishes, and clothing/linens. So if house hacking or living small is a big part of your future, here are some of the appliances and furniture you need to become acquainted with.
*Check local ordinances

Compact and efficient, this pair from Bosch packs a powerful punch ensuring all your clothes washing and drying needs can be done in a small space without vents or turning it into a sauna.
The washer has the following features:
2 cu ft Capacity means up to 16 towels can be washed in one load
15 Wash Programs to provide the right temperature and spin profile for all your differing fabrics.
SpeedPerfect provides up to 40% faster washing times than many other models in a similar size.
Stainless Steel Drum and Eco Silence Motor give you robust washing with minimal noise.
Stackable, which instantly halves the footprint of this laundry pair.
The Dryer has the following features.
Condensation dryer with 4 cu ft Galvalume Drum (55% Aluminum-Zinc Alloy-Coated Steel for durability). This condenses the moisture in the hot air releasing it through the water drain, expelling hot air, negating the need for ducts and blowing.
Sensitive Drying System uses warm, mild air to gently dry laundry, helping clothes last longer.
Rigid Antivibration Side Walls stabilizes the drum to reduce vibration – essential for a small space
15 dry cycles including permanent press, delicates, hand wash/wool, sanitize, and jeans.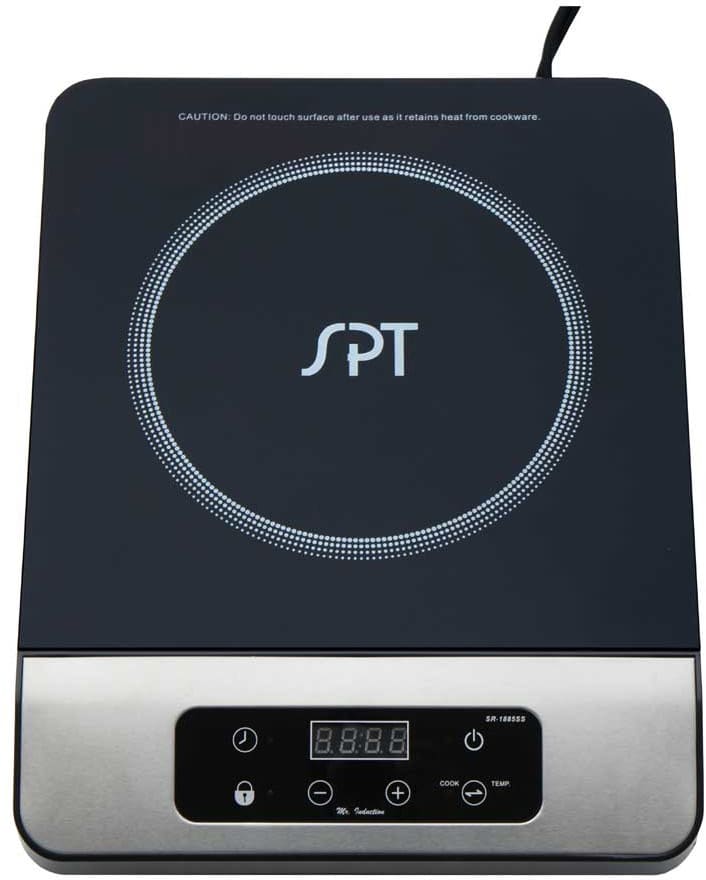 This single burner portable induction cooktop is perfect for small-scale cooking and warming of food with 13 power settings and 13 keep warm settings. There's an LED control panel for functionality and visibility in low light. Perhaps and most importantly, the lack of gas and heat of any kind, other than that produced when an induction compliable pan is placed on it, means there is no fire hazard.

Living on a small scale requires a toaster oven. It's the catch-all for a variety of food, allowing you to toast, broil, and bake. If dried out microwaved meals aren't your thing, you'll love this classic, with rubberized dials, a cool-touch handle, and a slide out rack. You'll be able to produce culinary creations that may be small, but they'll be exquisite.

A compact fridge freezer proves the home hacker doesn't need a hulking full-sized refrigerator taking up their limited space in order to survive. This does what it says on the label for an affordable price. The total capacity is 3.1 cu ft which consists of a 1 cu ft freezer capacity and 2.1 cu ft refrigerator capacity. Other features include a 2-liter bottle storage in the door, clear view crisper, interior light. This is both Energy Star and ADA Compliant.

If you are living in the basement, the one thing you will need is an air purifier. This sleek looking machine eradicates mold, dust mites, bacteria, fungi, viruses, pollen, allergens from domestic animals, and other microorganisms from the air. In the process, respiratory issues such as asthma and allergies are greatly diminished. Unlike other air purifiers, this one uses exclusive technology from Airfree. It's completely silent and requires no filters or maintenance.

Chances are if you're living in a micro-apartment or a basement you're not going to have much sink space. In fact, your wash basin may be doubling up as the place where you clean your dishes which is never pleasant. All the more reason to invest in a portable dishwasher. This one, from Danby, can be attached to any faucet and sits comfortably on a flat surface. The unit features 6 wash cycles, a delay start option, and a silverware basket. It's also Energy Star approved. At 52 dB, you'll still be able to sleep while the dishes are being done.

For lo-fi living a sleeper sofa is essential as it doubles as two furniture pieces in one. There are dozens to choose from but this model from Glory Furniture's Navi Collection, which comes in a few different colors, looks good, and is reasonably priced. The tufted upholstery and cream trim check the boxes for a contemporary design whilst the tapered legs will add a touch of sophistication to your cozy space. It's delivered flat packed so getting it into your subterranean sanctuary shouldn't be an issue.