Any New Yorker looking to make money in the Big Apple by flipping houses will tell you, it's not easy. You'll need extremely deep pockets to be able to afford to buy a fixer-upper in the city that never sleeps, especially when it comes to eating up your paycheck. With the average price of a home in Brooklyn over $1 million, just getting into the game is impossible for most middle-class New Yorkers.
Look At Surrounding Areas
Many New Yorkers are very insular when it comes to their city. For some, Queens is considered out of town. A lot of NYC residents don't drive and so the thought of trekking away from public transport gives them the jitters.  However, if you're willing to look an hour or more so outside the city (it can take that long to travel from Central Park to Park Slope) there is a great money to make flipping houses.
Public Transport Could Be The Key
In New Jersey, Newark, East Orange, and Irvington, areas once thought of as no-go neighborhoods, are rapidly turning around. They are far from out of the woods when it comes to crime and schools but their proximity to New York (downtown Newark is a $2.75 Path Train ride away) and the huge gulf in prices has made them a gold mine recently for flippers.
Older Homes Make Money
There is a lot of older housing stock here in dire need of renovation. Frame houses that were foreclosed on after the last financial crash are now just coming to market because of the state's lengthy foreclosure process.  Indeed, flipped homes represented more than 6 percent of all New Jersey home sales in 2017. It's not unusual to buy a fixer up for around $140K, put $60K into a flip and sell for $250K. Compared to the prices of single-family homes across the Hudson, no wonder these hardscrabble cities have been deluged by flippers in recent years.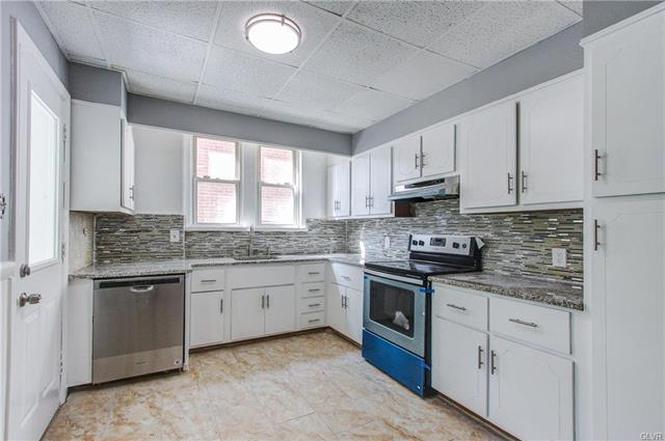 PA Is Full of Profit
If you want to head further out, around 90 minutes out of the New York, is Lehigh Valley in Pennsylvania and the cities of  Easton, Allentown, and Bethlehem. It's another flipper's paradise. On the South Side of Allentown, it's possible to buy a bank owned home for $80K, put $40 into it and sell for $160K. There's been such a frenzy recently, that low inventory has caused prices to continually head north to previously frothy heights. It is still possible to find a deal though if you can move quickly.
Find A Successful Flipper And Become A Money Source
There are some people who love everything about flipping. They love dealing with contractors, being on the job site, picking out the tiles and cabinets and driving around each day looking for houses and doing deals. There are others whose interest is simply the money it generates. If you fall into the latter category, your time and wallet may be better served by becoming a hard money lender to flippers.
Let Your Money Do The Work So You Don't Have To
Generally speaking, you could look to make anywhere from 12% and up on your cash – amortized over 12 months. So, basically 1% a month. That's a decent return because it means you don't have to spend time managing a flip and all the headaches it entails. Your money should be protected by a Deed-In-Lieu of foreclosure which means that if thing go awry you can always take back the property and sell it to recoup the money you have invested (even if it has been rehabbed). In a city such as Pittsburgh, a recent boom town for flippers, $150K will both buy a house and fund the renovation.
Connect Other Investors With Flippers And Be Part Of The Deal
Most of your acquaintances won't like doing the hard work to find trustworthy flippers with whom to lend their cash. However, if you've already done it and are making money, they'll want to emulate you. There's nothing wrong in charging a commission for introducing these investors to your flipper. You can get paid on the back end and have a "Consultation Fee" buffered into the deal and placed on the settlement sheet so everything is transparent. The flipper may need to pay you out of their cut otherwise you run the risk of your investor simply going around you. Of course, the flipper could do the same thing and it's always difficult to enforce these things contractually if they do, so a certain amount of maturity and trust is required.
Buy Fixer Uppers And Sell Them To Flippers
This is one step on from wholesaling. Wholesaling is the process of putting a property under contract and then assigning (though the old concept "assigning" is technical legal grey area) it to another buyer and pocketing the difference. The key here is that you don't spend any (or very little) of your own money. However, if you have cash and don't want to be bothered with the hassle of fixing up a property this could be a great strategy. By attending auctions or bidding for deals online,  then"flipping" them to flippers you could earn quick cash.
Many of these homes are in a terrible state. By hiring a clean-out crew, to remove debris and get the property in shape for a contractor will increase your chances of a quick sale.
Partner With Friends/Like-Minded Investors
The old adage is that business and friendship don't mix but if you want to flip a Brooklyn brownstone, teaming up with your friends/colleagues may be a risk worth taking. Of course, clearly delineated roles would need to be established before any money passed hands. Squabbling about tiles and shower heads could make the process intolerable. If three partners buy a fixer-upper for $1.5 million, put $400K in to and sell it for $2.3 million there won't be too many who would balk at over a $100K payday. The difference in NYC is that the initial investment is a little out of most people's comfort zone. But pick the right neighborhood and the profit could add a second salary to your income.