Thermador was the first celebrity appliance brand. It came into the homes of millions of Americans through Julia Child's PBS cooking show and the Brady Brunch.  Sixty years later Thermador appliances are defining the celebrity tie-in. The venerable and innovative company has not only survived but thrived since first appearing on TV. The launch of their aptly titled Masterpiece and Professional Series has kept them at the forefront of luxury appliance brands. The litmus test of any appliance company's commercial prestige are the celebrities that choose to install them in their own kitchens and the chefs that stand by them. Thermador have racked up quite a few endorsements in recent years.
Trisha Yearwood
Country singer/songwriter and Food Network chef, Trisha Yearwood relies on her gas and dual fuel ranges for her Southern comfort food. Front and center on her shows are Professional Series models which feature Thermador's proprietary star burners on the stovetop that direct flames in a more focused manner than standard round burners.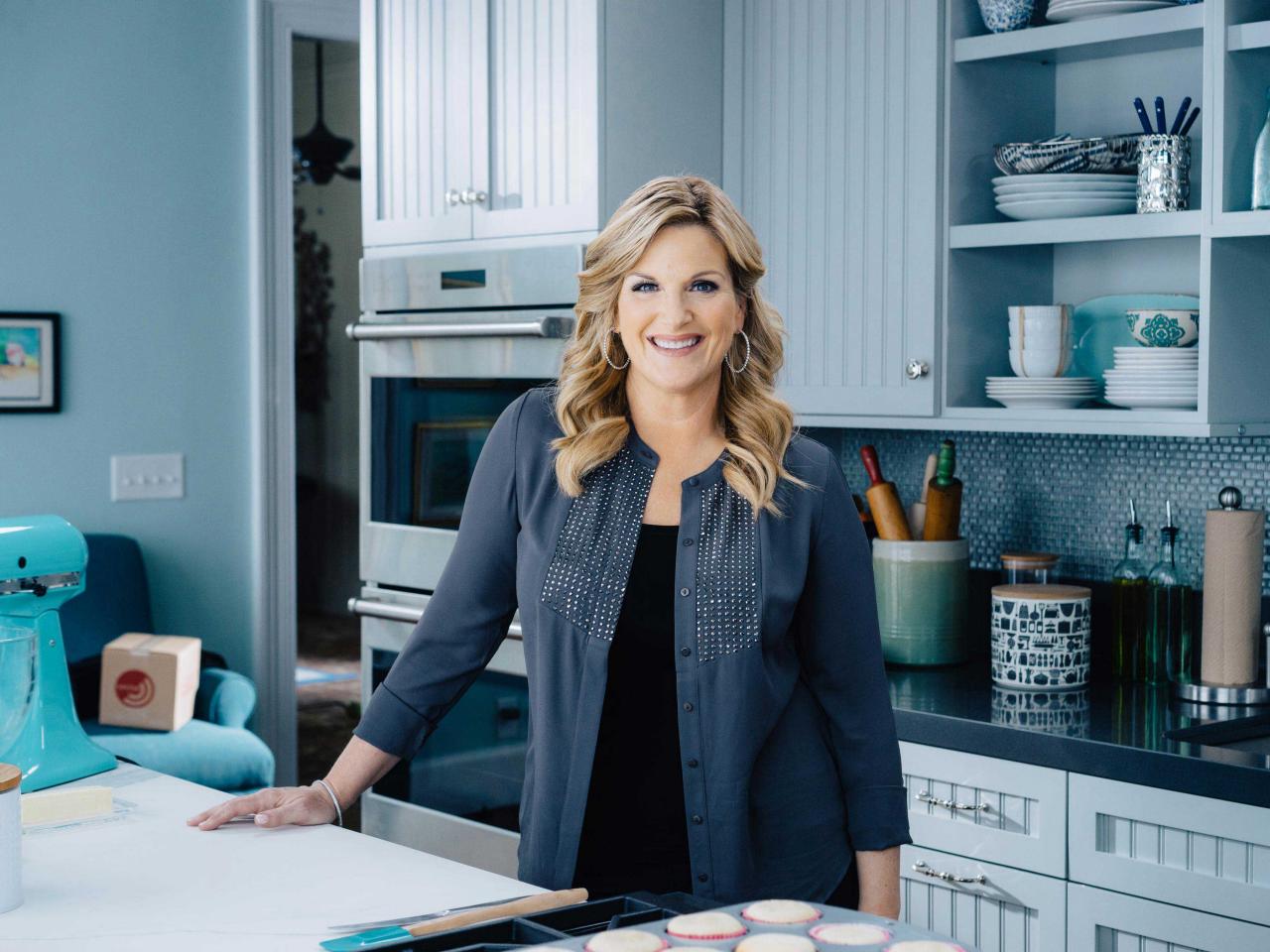 Yearwood's commercial empire has expanded from music and food to home furnishing, cookware, and clothing, cookbooks and more. If Thermador appliances are what she chooses to make her busy life easier in the kitchen, who are we to argue?
Chrissy Teigen & John Legend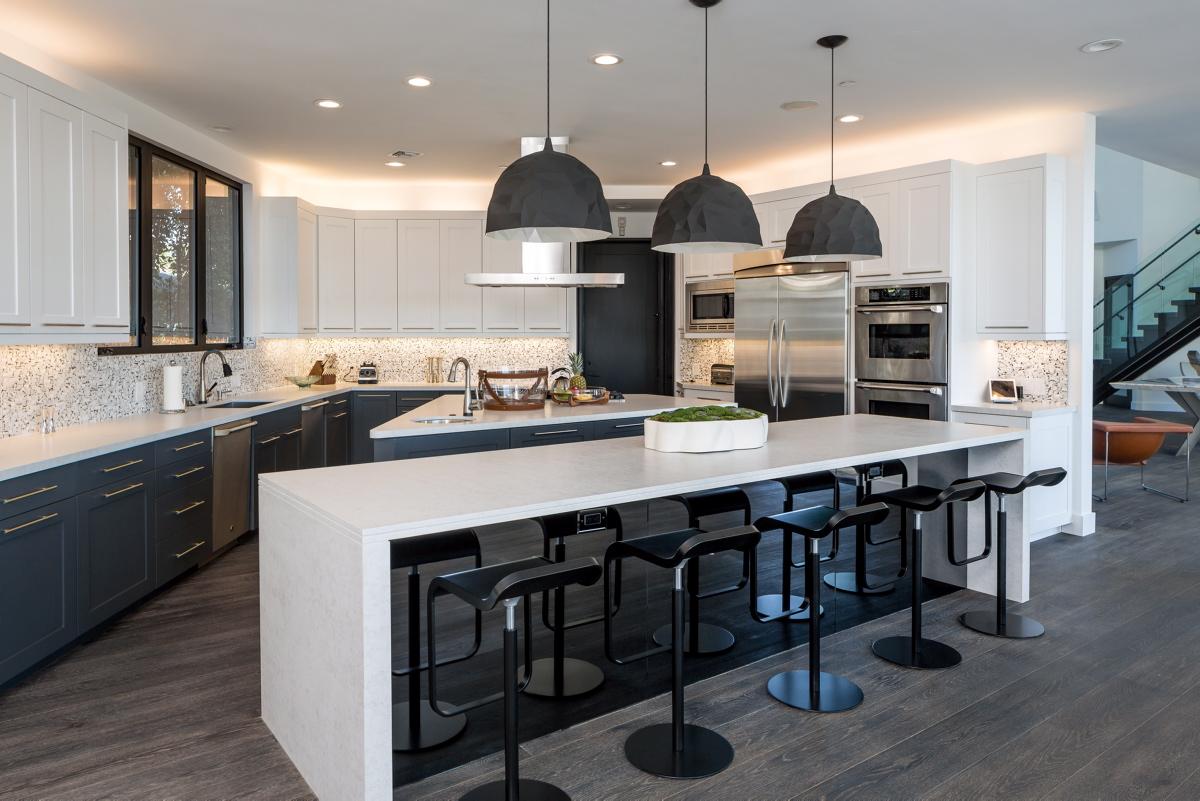 This power couple are the epitome of celebrity, music, and food. The music comes from Legend, but the food is definitely all former model, Chrissy Teigen's domain. She's a polymath celebrity (model/actress/cookbook author /social media influencer) who divides her time between homes on both coasts. The Tiegen/Legend  LA home has built-in luxury Thermador stainless steel appliances, including a gas stove, a double wall oven, an integrated refrigerator, and a wine fridge.

Her kitchen is the perfect setting for dreaming up recipes for her best selling cookbooks. The NY Times bestseller, "All The Food You Want To Eat", (released in 2016)  was the second best selling cookbook of 2016."Cravings: Hungry For More" was recently released on September 18th of this year to much acclaim.
Gerard Butler
Scottish actor, star of the iconic movie, "300" and many more, Gerard Butler, didn't stick to the script for his two-floor apartment on the edge of Manhattan's Chelsea neighborhood. Eschewing modern design trends, Butler's home, which was recently sold, was featured in a 2010 issue of Architectural Digest. It's uniquely designed. He described it as a "bohemian old-world rustic chateau with a sense of baroque."
 Butler, who has an admitted weakness for Italian food, equipped the kitchen with a full spectrum of Thermador appliances. This includes a built-in refrigerator, wall oven, microwave, and warming drawer. There is also an in-wall coffee system, a Thermador range top, matching hood and dishwasher. The man certainly likes what he likes.
Adam Levine
It must be nice being Maroon 5's Adam Levine. He checks all the boxes: rock star, hit records, great family, and a fantastic home. And what appliances does the man who seemingly has it all put in his cool LA crib? He mixes and matches brands with an espresso machine by Miele and a  wine cooler by Viking, but the centerpiece is a 60-inch range by Thermador.
Elsewhere in the home, which was decorated by Mark Haddawy, an assortment of vintage furniture gives the place an eclectic bohemian aesthetic. In the kitchen, an Andy Warhol silkscreen hangs above a French Art Deco cabinet from JE Chen. A vintage Italian bar cart is nearby. Of course, the place is filled with musicality. The master bedroom includes a Wurlitzer baby grand piano and numerous vintage guitars. It's a wonder he ever wants to leave.
Martin Lawrence Bullard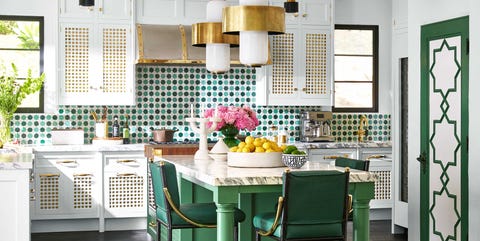 Interior designer, Martin Lawrence Bullard stars in the Bravo TV series, Million Dollar Decorators and hosted Channel 4's Hollywood Me in the UK. He is routinely named as one of the world's top 100 interior designers by Architectural Digest and featured in Elle Décor's A-List. He has been named as one of the top 25 designers by The Hollywood Reporter. He's decorated the homes of Khloe and Kourtney Kardashian, Tommy Hilfiger, Cher, Eva Mendes and has published two books. But enough of the resume. It's his own home we are interested in.
House Beautiful decided to feature Bullard's personal property for their Kitchen of The Year 2018. The home, high in the Hollywood Hills has housed a number of high profile celebrities over the years.  Bullard actually designed the interiors of the property 20 years ago for TV host Craig Kilborn. When he purchased the house himself, he decided to redo it, kicking off the renovation in the kitchen.
"I cannot cook," Bullard said in House Beautiful magazine. "but we have a wonderful chef and know great caterers." Bullard and his partner, Michael Green, entertain twice a week: "One night is casual at the kitchen island, and for the other, I dress up the dining table for a more done-up dinner."
The kitchen is decked out with Thermador appliances.
"We installed the new Thermador Glass Care Center dishwasher — it's perfect because it cleans crystal beautifully. I love to dress a table and have seven different collections of glassware! The island houses Thermador under-counter refrigeration drawers, which are just brilliant because you can have things at different temperatures."
There is also a 48-inch Pro Grand Steam Range and a custom design hood and Freedom Wine and Refrigeration columns, again,  all from Thermador.
Must be nice!