As essential as sunscreen and flip-flops in the summer is a grill. But knowing which one to buy out of the many available can almost be as difficult as swatting mosquitos in August. As always, Appliances Connection is here to help you. In this piece, we'll show you 5 of the best in propane grills.
Napoleon is a prominent name on many lists. At the higher end of their offerings, this Prestige 500 model was named the "Best Grill with All the Bells and Whistles", from foodal.com.
Its rock solid construction and a slew of features, "…provide a grilling experience a cut above the average," says the influential site
Numerous burners give the grill versatility. These include 4 main, and 2 infrared (side and rear) allowing 8 different ways to cook
JetFire Ignition System gives guaranteed lighting
Stainless Steel Construction makes this rustproof with sleek look
Accu-Probe instantly reads the internal temperature of the food being cooked
Intense heat with a total output of 80,000 BTU's
Charcoal grilling no problem with the charcoal smoker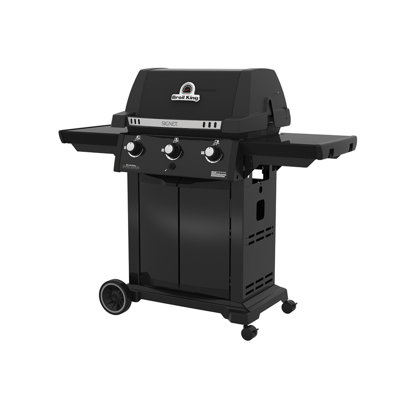 Named Best Overall Propane Gas Grill under $500 by thespruceeats.com, this model from Broil King's Signet Series is both compact and affordable. The intensity isn't diminished due to the fact there are 3 burners as they are well designed with heavy cast iron grates providing impressive heat transfer. The main burner has a 40000 BTU output with 400 sq. in. cooking area.
Flav-R-Wave Cooking System provides superior heat distribution, vaporizing grease and preserving flavor,
Sure-Lite Electronic Ignition System means old school match lighting or handheld BBQ lighters are things of the past.
Therma-cast Cookbox is made of die-cast aluminum is covered by a limited warranty. It provides excellent heat retention and durability.
Linear-Flow Valves with Sensi-Touch Control allows incremental heat control to grill, sear or slow cook to the perfect temperature
To quote Forbes: "If you have room for just one grill, look no further than this masterpiece." That's quite an endorsement for Summerset Grills and their American Muscle Series. What makes this so special is the heavy duty steel used in its construction. Factoring in the price, which is up there but certainly favorable compared to competitors, this works seamlessly when toggling between propane, gas, and charcoal. It's got some serious horsepower under the hood and a retro design inspired by the 1969 Ford Mustang.
Pure Power, Drive, and Energy With a mighty 176,000 BTU's get ready for blast off with this rocket-powered bad boy. All that power is harnessed a 14 gauge #304 Stainless Steel construction
Instant Heat. If you don't like the idea of waiting for your food to cook, this gets hot immediately. Dual spark, solid brass, flame-thrower ignitions fire every time. The reversible V-Tech grates give added control over heat transfer
Flexibility is the name of the game. It burns it all, from propane to charcoal, lump charcoal, wood chunks and natural gas.
Rock Solid Construction from the protective shield which is actually a two in one burner cover and multi-fuel tray system featuring a 12-gauge #304 stainless steel tray for charcoal or other solid fuel.
Named as one of the Best Propane Grills, by productexpert.com, Broil King, via their Baron Series, have created a perfect model for a family with a small patio. It has an impressive 4 burner grilling capacity for its size. It's also completely portable with locking wheels with storage. Ample storage underneath for food prep, a propane tank and utensils.  Features many Broil King trademarks used in pricier models, such as:
Flav-R-Wave Cooking System uses quality stainless steel to provide superior heat distribution while eliminating excess waste
Sure-Lite Electronic Ignition System makes sure your BBQ fires up exactly when you want
Deluxe Accu-Temp Thermometer is stainless steel and reaches deep into the oven, giving an accurate temperature reading
Stainless Steel Drop-Down Side Shelves are designed to quickly and easily fold down for convenient storage in tight spaces
Rotisserie Burner. The direct flame, stainless steel rear rotisserie burner has graduated ports along the entire length ensuring the flame height is consistent for more even roasting and superior results.
Named one of the Best Grill's of 2018 by findbestgrill.com, this high end machine from Lynx offers an expansive 840 sq. in. cooking surface. For its size it has good maneuverability and its built-in lighting means after dark get togethers are no problem. Intense heat offers numerous cooking options. These include a Lynx Pro Sear infrared burner with 23,000 BTUs. There also a 25,000 BTU cast-brass burner with superb heat retention and rotisserie which sits over an infrared burner.
Welded Construction and Hand-Polished Mirror Edges gives this beauty and brawn. A lifetime warranty against rust means that this will stand you in good stead for years to come
Integrated illumination is a must when day turns to night and grilling is in full swing
Rear Hood Wind Deflector is perfect for the avid griller who is determined to grill come rain or shine
Trident Infrared Burner. Like a finely tuned sports car, this allows you to throttle back and forth between 300 to 1000 degrees and even less when cooking delicate seafood.