To grill or to chill? Are you an active BBQer who likes to be upright, legs firmly planted, getting the burner setting just right, adding wood chips to the smoker, tongs in hand? Or do you prefer you slather on the sauce, shut the lid of your backyard behemoth, chill with a beer and let the grill do it all for you? Whatever your preference, there is an appliance to suit your needs. We scoured the web to find 5 of best reviewed outdoor grills
R425SIBPSS Rogue Series 51-Inch Freestanding Liquid Propane Grill
A favorite of USA Today, this stainless steel grill in the Rogue Series comes in both gas and propane. Lauded for its even heat distribution, quick to broil side burner, an accurate built-in thermometer, and quick assembly. Specialist outdoor grilling site, thespruceeats.com named higher priced Prestige 825 Grill their Best Overall Grill of 2018.
625 sq. in Grilling Space allows a large surface area for veggies, meats, and fish for all your guests
Sizzle Zone Side Burner is the side hustle of this grill. While the main stage gets busy with heavyweight meats, succulent sauces and sides are being prepped to one side via infrared heat
Dual Level Sear Plates allow grease to leave while the flavor stays
Stainless Steel Burners give this grill maximum heat for a relatively compact unit
B70090 21-Inch Portable Electric Grill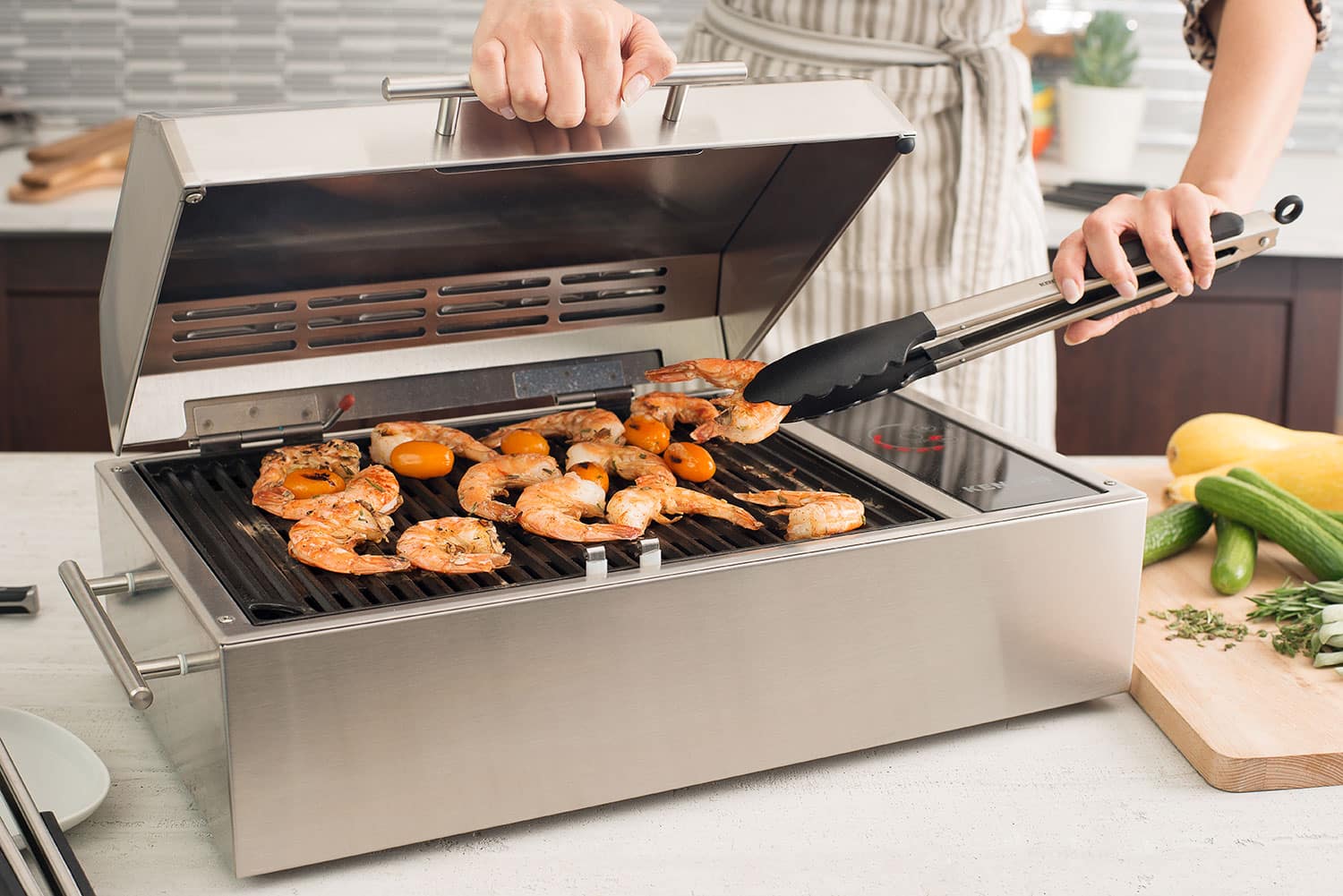 Many apartments and condos have strict rules as to what can be cooked on balconies. Not good news for urban dwellers, then who have to visit someone's backyard to get in on the grilling fun. Kenyon have made it their business to close this loophole. Their line of electric grills provides even, seared grilling without the gas, propane, or charcoal. Does it taste the same, though? According to Digital Trends, yes it does!
Preheats in less than 7 minutes which is a lot easier than dealing with coal, wood chips, and lighter fluid
Easy transport makes this convenient for unplugging and taking off the condo patio
Concealed Electric Element because heaven forbid you had to scrape off grease from your electric coil
Angled Double Lined Lid locks in heat while allowing the exterior to remain cool to the touch
BE136RCN 9 Series 36-Inch Built-In Natural Gas Grill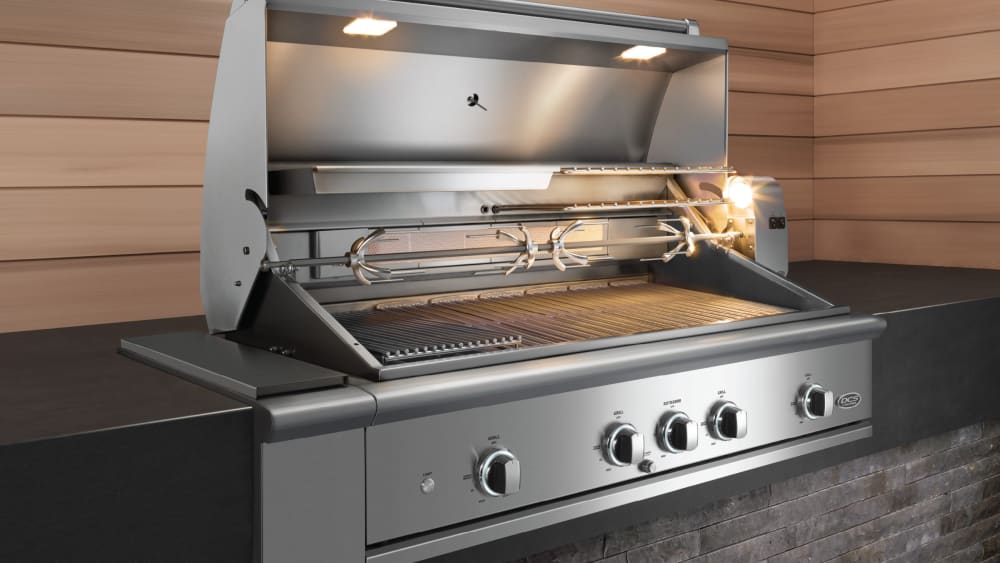 "There's the smoker and charcoal tray, the grill surface and the secondary cooking zone…it makes the grill magical. It's almost like a symphony," says renowned LA chef Ludo Lefebvre in home design website, Dwell. He was talking about the Series 9 Grill from DCS/Fisher Paykel. The grill meister test drove the appliance by preparing lamb shwarma basted with rosemary and a variety of fresh grilled fruits and vegetables. Loading up the grill's rotisserie, Chef Ludo says, "It's like an open canvas. The Series 9 Grill gives me a lot of options." Canvases and symphonies, what other grill can give you that?
Large Cooking Surface thanks to a secondary cooking space that can fit a broiling pan for slow cooking, roasting, sauces, or to keep food warm after searing
Ability To Use Gas Burners With Charcoal to produce a distinctive flavored food without lighting match
Heavy Duty Infrared Rotisserie provides searing heat up to 18,000 BTU, handling a 50lb load
Storage for Racks and Tools mean that the 6-inch storage accessory extends your grill to fit a 42-inch space. It bolts seamlessly onto either side of the grill to store racks, grates, and tools. This accessory is sold separately.
911470 Keg Series 41-Inch Freestanding Charcoal Grill
Named best modern charcoal grill 2018 by Business Insider. This grill, from the Keg Series, has the ability to smoke meat as well as cook it over direct heat. A double-walled steel container with an insulation layer in between allows heat to remain inside the grill efficiently while the exterior still remains cool to the touch. A smart ash clean-up tray allows makes for minimal mess.
Heavy Duty Cast Iron Grids allows heat to stay in the Keg to sear steaks or slow cook ribs
Trailer Hitch Compatible means you can to take your Keg with you when you travel
Removable Steel Ash Container for quick and easy cleanup
Roto-Draft™ Dampers allow precision cooking by controlling the air flow throughout the cooking chambers.
L36TRNG Professional Series 36-Inch Built-In Natural Gas Grill
Named Best Luxury Gas Grill by BBQguys.com, this sleek looking appliance gets kudos as much for its style as its substance. Yes, there's an infrared burner for temperature control as well as ceramic burners and a smoker box, as many other features which grills around this price point have but few look as good as this. It's the the iPhone of grills and will make take center stage at your BBQ.
Cutting edge Trident infrared burner gives the user constant temperature control
Ceramic burners provide intense heat and heat retention
A large capacity smoker box enables a delicious smoky flavor to be added to food
A unique two-position, three-speed rotisserie with infrared burner produces slow roasted perfection