Those in the know, know just how good some of the European appliances. Technically masterful and visually stunning, they are usually at the forefront of innovations in their field. We look at five highly respected European brands to examine their history, what makes them special, and which of their new appliances you should know about.
Who Are They?
A venerable German appliance company. Blomberg has been around since 1883 when it was founded as a metalworking firm. Today it is a major household brand in Europe with a full range of appliances. It's perhaps not as well-known as many luxury brands in the US, but that doesn't mean that it can't compete.
What Makes The Company Unique?
The company has made it a mission to be energy efficient and environmentally conscious. It's worked. Earlier this year Blomberg received the 2018 ENERGY STAR Partner of the Year Award for the second year in a row for its outstanding contributions to protecting the environment through energy efficiency. Here's what Blomberg US President Hasan Yardimici had to say about the award:
"Everything we do as a brand is centered around sustainability and innovation, and this EPA award is validation that we are moving in the right direction."
Blomberg also builds Viking dishwashers in an all-inclusive factory outside Istanbul, Turkey.
One Appliance You Should be Looking At
Aside from Blomberg dishwashers, which are highly rated, their ranges are widely well reviewed and this 30-inch freestanding gas range stands apart from many similar sized ranges because of its 5 sealed burners. (4,000 BTUs (top left), 8,000 BTUs (top right), 10,000 BTUs (bottom left), 12,500 BTUs (bottom right) and 20,000 BTUs (center)).
Other features include:
Premium Stainless Steel which resists fingerprints
Porcelain Top which is easy to clean and resists spills
European Design is sleek and makes the slide in appliance fit in seamlessly with the surrounding counter-top and cabinetry.
True Convection in a large capacity oven with digital controls
Who Are They?
Based in Spain's Basque Country, they are their native country's largest consumer appliance company and the fifth largest in Europe, manufacturing a wide range of products including washing machines, refrigerators, and ovens.
What Makes The Company Unique?
Innovation. Aside from the larger appliances Fagor also creates cutting-edge appliances such as induction cooktops and dishwashers and a number of smaller appliances in Europe.
For larger appliances, Fagor has carved its own niche in Europe with its laundry models which the company manufactures itself. In the US, however, its refrigerators seems to be striking a chord with the consumer.
One Appliance You Should be Looking At
Fagor BMF200X | 24-Inch Counter Depth Bottom Freezer Refrigerator

Tall and thin, this 24-inch refrigerator won the 2015 Good Design Award for Design Excellence in the Kitchen. It was the second year in a row they won. Perfect for apartments and tiny houses, as well as looking good, it's Energy Star Certified.
Fahrenheit and Celsius temperature display (just in case you have visitors from Europe)
Anti-Fingerprint stainless steel
Door Alarm and warning light system helps keep the fridge closed
Reversible Doors give flexibility when trying to make this ergonomically feasible for small spaces.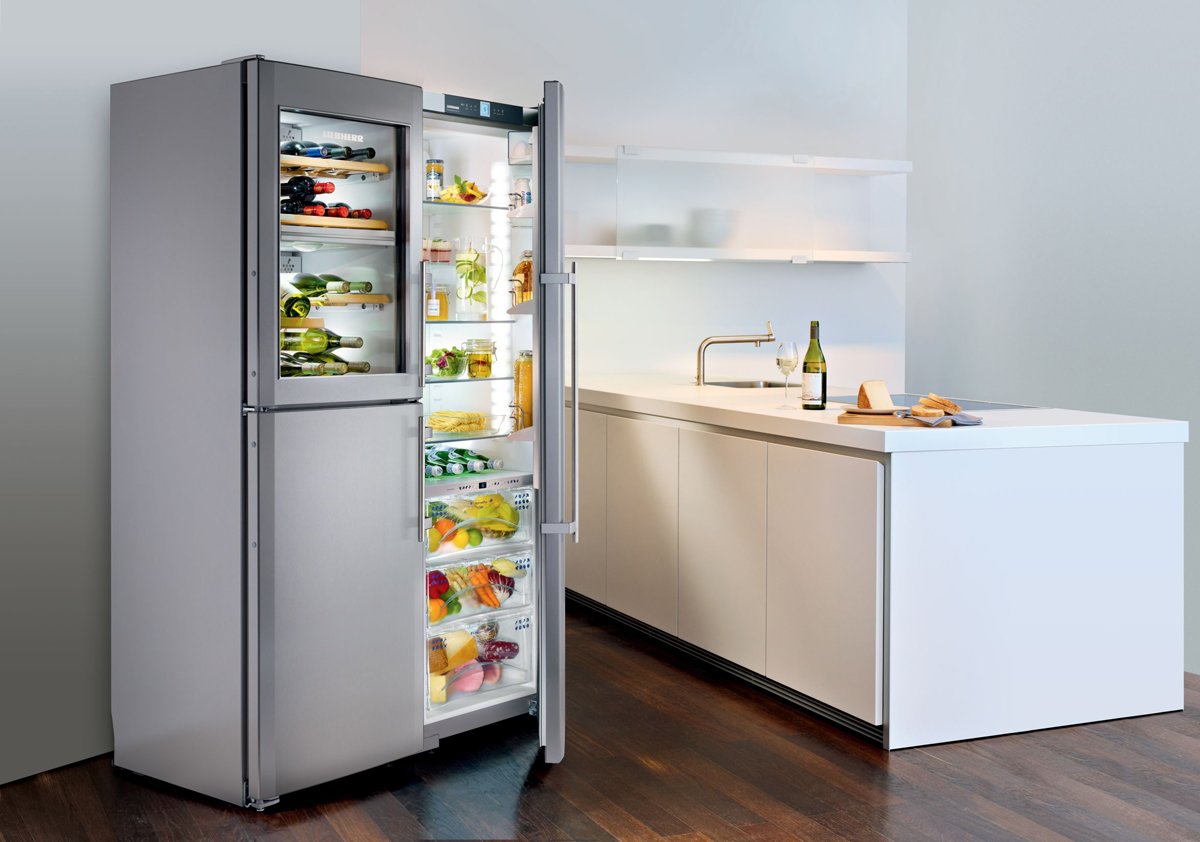 Who Are They?
Based in Switzerland with its main facilities and origins in Germany, Liebherr actually consists of 130 companies. They are a massive corporation making construction machines, mining equipment, cranes, aircraft parts and more, generating over $11 billion per year. They also have a range of residential and commercial appliances.
What Makes Them Unique?
They have money and lots of it, so they have the funds to make the best products possible. Also, unlike many other companies that make a massive cross-section of appliances, Liebherr focuses on refrigeration. Couple this with legendary German engineering and you have some of the best fridges in the world.
One Appliance You Should Be Looking At
Any refrigerator from the Monolith Series is going to be good but taking a common measurement, of 30 inches (only the column on the right in the image above), this appliance has a slew of features to justify its price.
German Engineering cannot be overstated because the components and materials that go to make these high-end appliances are so important to ensure energy efficiency and performance
Energy Star Certification almost goes without saying. Good for your utility bill, good for the earth
Supercool is not just an accolade but a feature, generating greater cold reserves so freshly stored food can be rapidly chilled and then brought to the normal refrigeration temperature which helps food stay fresh longer
SuperQuiet thanks to speed controlled compressors, you don't need earplugs to concentrate
GlassLine shelves are scratch resistant, easy to clean and dishwasher safe
Gallon Storage on the door with more cubic feet more cartons of juice
Who Are They?
With a name like that they had to be Italian. They've come a long way from making coal stoves in 1949. In 1990 they created the first built in glass cooktop and in 2010 branched out into specialty appliances such as the steam oven and microwave and coffee machine. They pioneered the first production of a built-in cooktop on a stainless-steel sheet in 2011. Since then they have branched out into wine cellars, induction hobs, and everything to compete with luxury brands fighting for your kitchen's real estate.
What Makes Them Unique?
Price wise their ranges are priced between $3,999 and $5,499 which puts them above Smeg and Bertazzoni but below Wolf and Viking. The ranges are built in Italy but designed with the North American market in mind. Thus the large convection ovens and soft-close doors.
One Appliance You Should Be Looking At
Like a Ferrari, this combines Italian design flair with high performance. From simmering to full power, this can go from soups to stir-fries in an instant. Convection heat in the oven below decreases broiling times. This goes head to head with anything in its price range.
From Simmer to Sear, soups to steaks, each burner can be lowered to 950 BTUs so the only thing scorching is the feedback from your delicious dishes
All Dual Flame, this range's dual brass burners can reach a rocket-powered 18,000 BTUs to rival commercial equipment
Meat Probe means that sticking in a thermometer to a turkey is no longer needed. The white LED Temperature display shows you the temperature it's at
6 Heavy Duty Knobs and 6 touch keys help dial in precision temperatures
Who Are They?
An Italian manufacturer of upmarket domestic appliances, founded in 1948 in Guastalla, Italy. The name is an acronym for Smalterie Metallurgiche Emiliane Guastalla ("Emilian metallurgical enamel works of Guastalla").
After initially specializing in enameling and metalwork, the company moved into cooking appliances, launching "Elisabeth", its first cooking range in 1956. It was one of the first gas ranges to feature automatic ignition.
What Makes Them Unique?
SMEG's motto is "technology with style" and there's no doubt about it that when it comes to design, SMEG is at the forefront of looking good. Case in point are their brightly colored 50s style refrigerators with state-of-the-art features.
They have recently reteamed with fashion designers Dolce & Gabbana to create "The Fridge of Art" to make a special edition of the FAB28 refrigerator featuring images by Sicilian artists inspired by elements of the poetic marionette theater. They are not afraid to go places that other appliances companies wouldn't dare.
One Appliance You Should Be Looking At
A conversation piece if ever there was. The company's distinctive colors inspired by fishing boats of the Mediterranean shouldn't distract from the quality of the Portofino Series of ranges and hood vents. An extra large 4.5 cu. Ft oven capacity with 5 sealed burners and three interior fans, this appliance has a slew of features.
Vapor Clean courtesy of the eco-friendly function allows a steam cleaning of the appliance with no chemical additives
Ever Clean Enamel thanks to a special anti-acid enamel facilitating the oven cleaning process, decreasing oil adhesion to the appliance walls
Isothermic Proof Cavity through, with rounded corners and smooth, uniform walls, offers maximum thermal insulation and optimal energy performance.
5 Cooking Levels through multiple burners allow a multitude of dishes
Cold Door via a triple glazed door keeping the oven at room temperature during cooking