A kitchen sink is, in some ways, like having a thumb. It's often taken for granted but without it, everything grinds to a halt. Because it doesn't have the same technological fizz as surrounding appliances, it's something of an unsung hero. Like thumbs, all kitchen sinks are multi-purpose, handling a number of different roles. They are a place to wash, rinse, collect, and fulfill the task of anything water related, which makes them pivotal. Invariably, a sink is where most of the action is and so it's worth having one that looks good and performs well.
But what does that actually mean? A good looking sink not only matches the decor of the kitchen but can be a statement piece in its own right. Also, performing well means being able to withstand heavy, hot grease-soaked pots and pans, ice buckets and everything in between. Not showing its battle scars and being easy to clean is a huge plus. As we'll see, not all sinks are created equal. So here are 5 best and most beautiful kitchen sinks on the market today.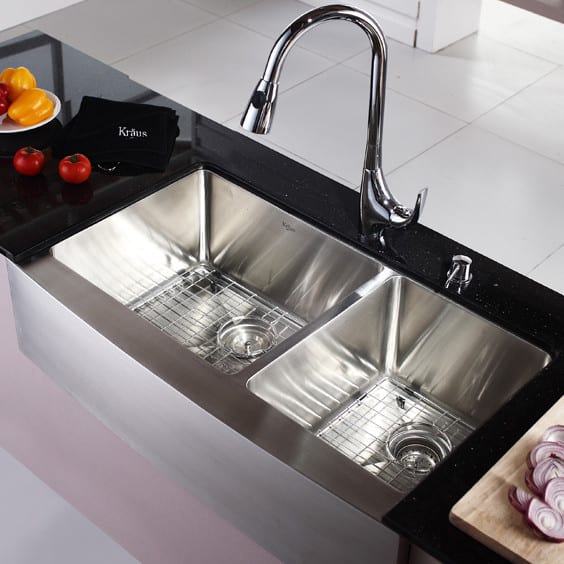 A stainless steel sink from Kraus's Precision Series has obvious advantages when fitting with the décor of the kitchen. This sink gives a classy contemporary look with clean lines and tight corners while being tough enough for the heaviest of poundings. Measurements: Length: 35.9 inches, Width: 20.75 inches, Depth: 10 inches
Features include:
Premium T-304 stainless steel construction.
16-gauge stainless steel (1.5mm thick).
Sound insulation courtesy of rubber dampening pads.
Faucet and soap dispenser included.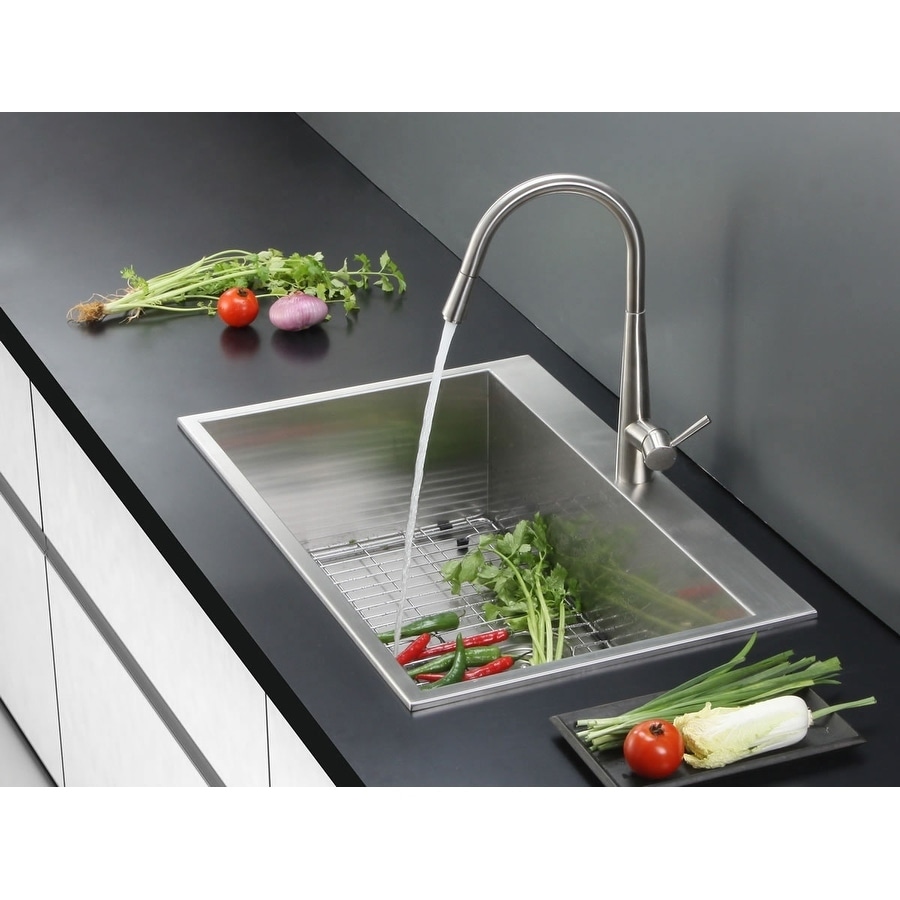 Part of the Tirana Collection, this 25-inch, overmount sink consists of deep square bowls and brushed stainless steel, make it a stylish accessory for any kitchen. (Sink only. Faucet not included.) Measurements: Length: 22  inches, Width: 25 inches, Depth: 10 inches
Features include:
16 gauge premium T-304 grade stainless steel (18/10 chromium/nickel) which will never rust or stain.
Sound dampening courtesy of Noiseproof undercoating.
Sharp inside corners fit the look of contemporary kitchens with clean lines.
Brushed stainless steel masks scratches.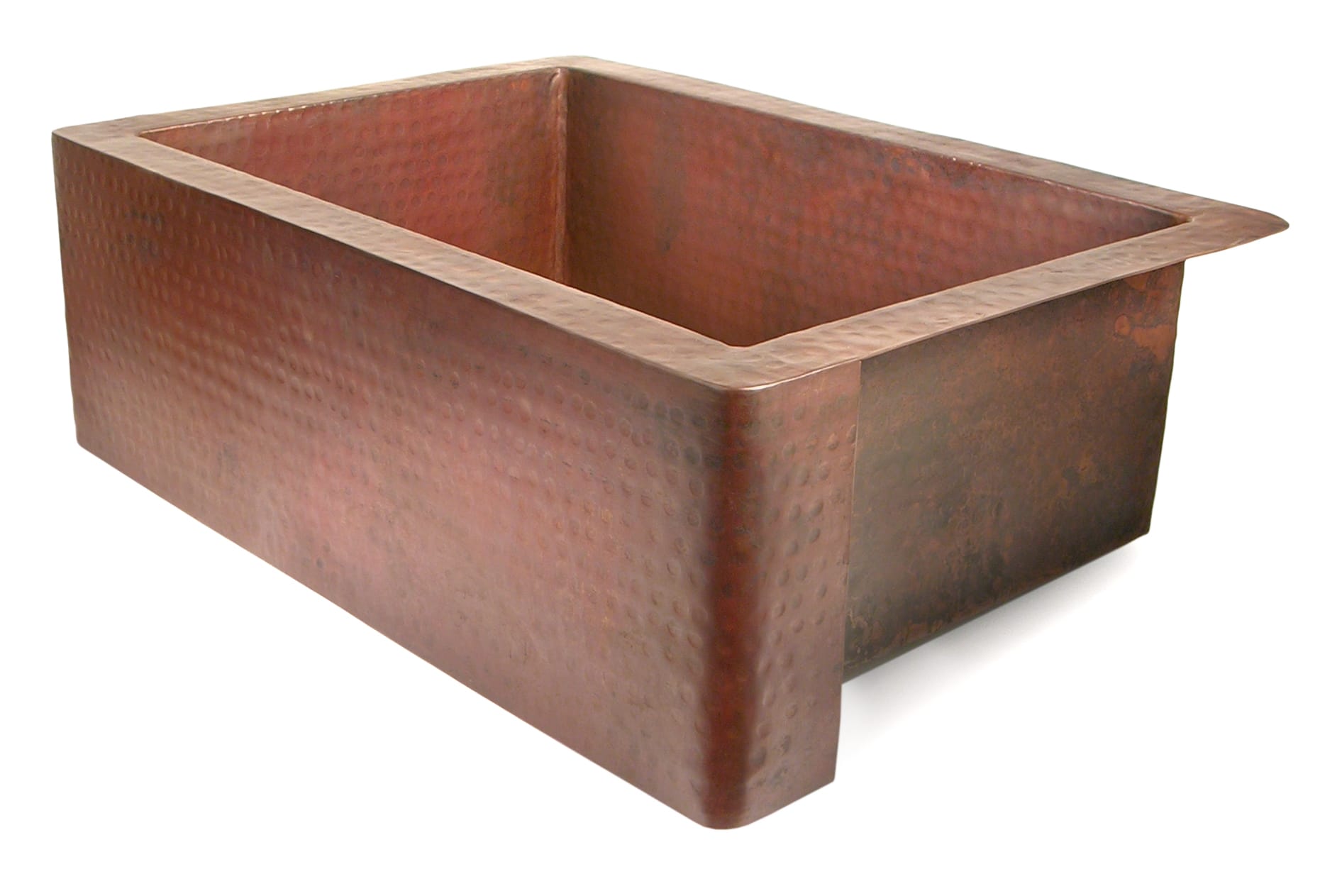 Copper sinks have become increasingly popular in recent years as a fusion of rustic and contemporary décor has become a trend in kitchen design. Cooper is susceptible to heat so a certain amount of cooling time before placing hot pots and pans in the sink is advisable. Also, citric acid from lemons and orange juice could discolor copper. Cleaning with soap and water and a copper cleaner is advisable from time to time. That said, this sink from D'Vontz is an attractive addition to any kitchen and something of a statement piece.  Measurements: Length: 22 inches, Width: 36 inches, Depth: 10 inches
Features include:
Handcrafted by master artisans for a natural look.
Post-consumer recycled 16 gauge hand hammered copper.
One single bowl, seamless and attractive.
A shiny copper tone or smokey dark finish is eye-catching and contrast beautifully with many different colored counter-tops.
Made from the highest quality solid fireclay, this is the archetype of traditional apron farmhouse sinks, with a modern twist. The glazing process of the sink ensures a durability which keeps the sink impervious to bacteria, acid, and other harsh chemicals including coffee stains and cigarette burns which can all be wiped away. The constant dinging from heavy duty pots and pans and extremes of temperature also have no adverse effect. Measurements: Length: 32.625 inches, Width: 20.875 inches, Depth: 8.9 inches
Features include:
Reversible – means one side is smooth and the other has a concave design with a top lip, allowing for flexibility in installation.
The sink is glazed on all four sides for increased durability over other types of surfaces.
Compatible with garbage disposal which is sometimes a worry for craftsman type sinks.
The sink can be installed in 3 different ways, all of which have an exposed front apron. The most common is Undermount. The other styles include Flushmount and the third is Topmount.

This Italian granite composite sink, part of Nantucket's Plymouth Collection, comprises 80 percent natural stone, making it scratch and stain resistant while also being impervious to microbes. Measurements: Length: 15.75 inches, Width: 27.19 inches, Depth: 7.88 inches
Features:
Heat resistant to over 560 degrees Fahrenheit, making hot pots, pans and baking trays no concern
Non-porous surface is hygienic and stain and scratch resistant
Attractive flecking in the sink also gives depth
Combination of 80 percent stone and 20 percent polymers makes it durable as well as available in dark and light colors.
Dualmount design can be installed as Topmount or Undermount