There is often a disconnect between the size of a kitchen and the size of the refrigerator needed for family use. With bulk buying from warehouse stores like Costco, Sam's Club and BJ's becoming ever more popular, the need to store more food for summer BBQ's or winter holidays or to simply limit the number of trips to the supermarket has become prevalent. Thus, the rise of garage freezers, a second cooling and storage unit for the bulk frozen items overflowing from the kitchen.
There are some noticeably major differences between these backup coolers and the kitchen model. The latter is something of a showpiece so it usually has all the bells and whistles – a lustrous stainless steel finish and an ice or water dispenser.  There is no need for such features in a secondary freezer which is usually kept out of sight. Also, when considering a freezer for the garage, stainless steel is generally not the way to go. A garage, with no heat source, undergoes tremendous fluctuations in temperatures and humidity, thus metallic surfaces are likely to rust.
Here, just in time for the Holidays, are additional coolers to ensure you always remain stocked.
With a 19.8 cu. ft capacity, this white door chest freezer is a perfect place to store those jumbo size packs of salmon burgers or stir-fry veggies. Adjustable baskets help organize and store food inside the freezer, while LED lighting and optional casters help illuminate the chest and keep it mobile if necessary.
With 21.3 cu. ft capacity this upright is perfect for a discreet corner of the garage or basement. Features include turbo freeze for a rapid plunge in temperatures, handy for items that need to be quickly cooled. If the temperature of the freezer rises, an alarm sounds. A frost free feature means no emptying the contents to manually defrost.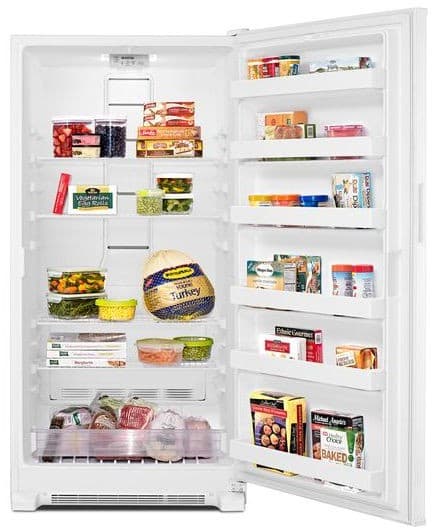 This 19.6 cu.ft capacity white door freezer has reversible doors, which makes placement flexible. Adjustable shelves allow for bulky items. An automatic defrost makes this hassle-free.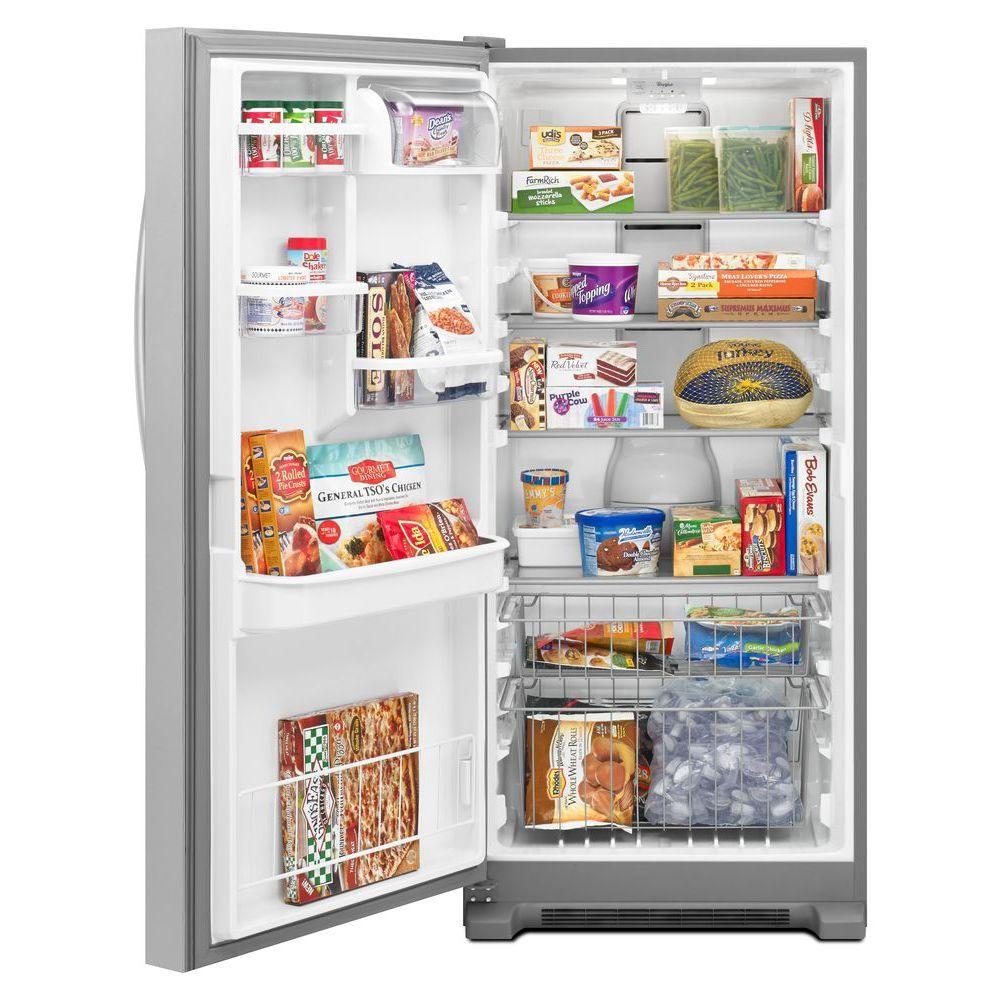 From the appropriately named Sidekicks Series, this stainless steel freezer with 17.7 cu. ft. capacity would be best suited to a large pantry or finished basement because of the stainless steel door. There's also the option of an ice-maker, a handy feature for holiday get-togethers.
This energy efficient compact freezer is perfect for basements and garages with a workspace countertop to fit this under. The freezer operates several degrees colder than most others. This is because its primary function is long-term storage of food.
The black color of this 2.8 cu.ft capacity freezer makes it ideal for a garage because dirt is less likely to show. Four pull-out drawers with clear fronts make organization easy. An adjustable thermostat is located in the rear.
This freezer is built for organized storage. It features 3 fixed wire shelves, a pull-out wire basket, and 5 full-width door bins. It can easily store meat, bulk groceries, and pre-made casseroles. The exterior lock makes it ideal for the garage, should unwelcome snackers want to try their luck.
A handy adjustable thermostat allows for the easy and accurate temperature management of this 3.5 cu ft capacity freezer. The environmentally friendly design emits no-ozone damaging refrigerant. Its slim counter height dimensions make it easy to fit for tight spaces.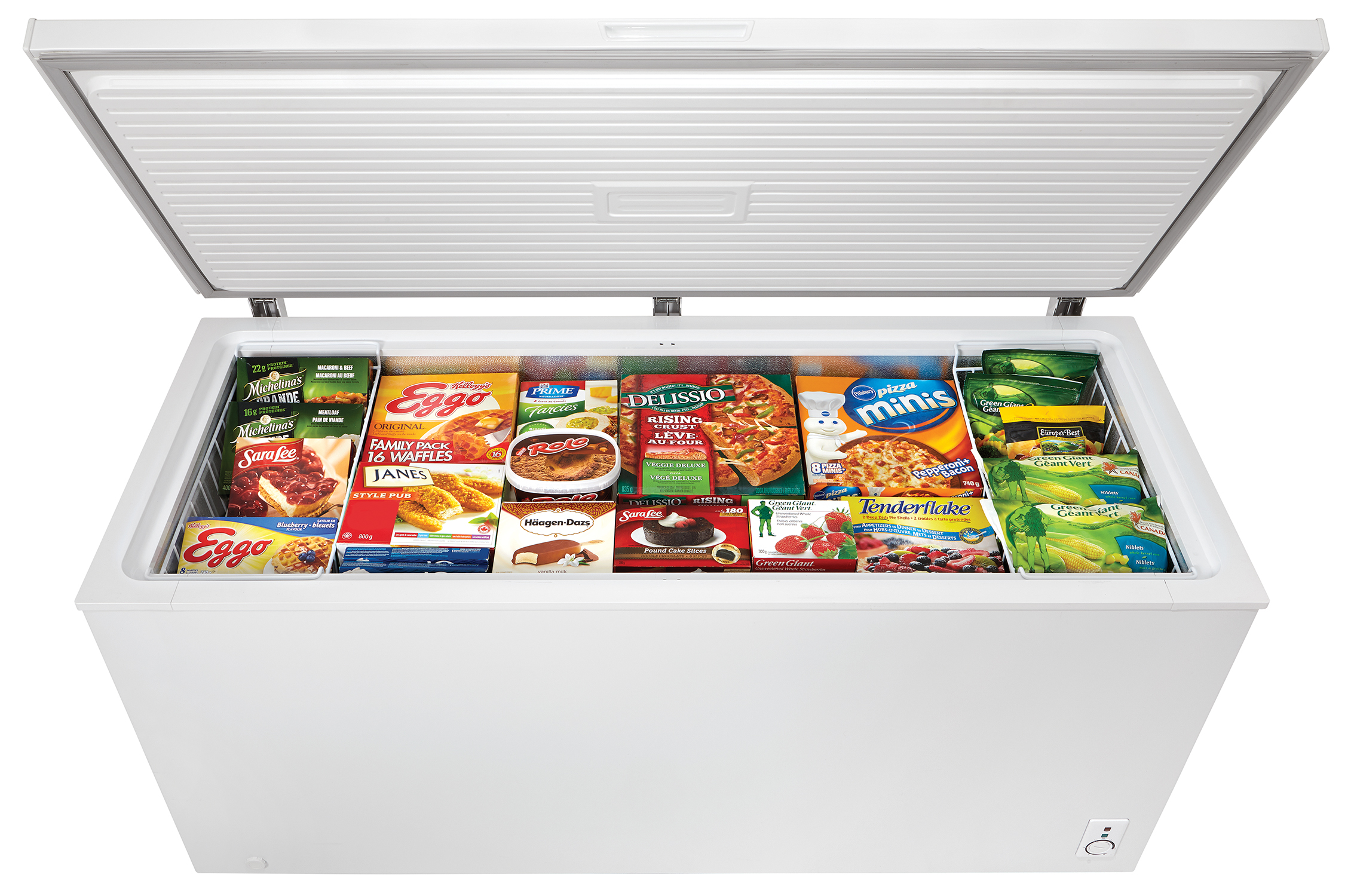 This portable, energy efficient chest freezer packs an impressive 17.7 cu. ft. of storage. Ideal for storing big slabs of ribs or large filets of fish, not to mention boxes of frozen foods. A mechanical thermostat is mounted on the front of the unit for easy accessibility. The drain is also front mounted for easy defrosting. A basket at the top makes for easy storage.
Engel freezers are portable and chargeable which makes them the ideal back-up for appliances when an extra few inches will make all the difference. If you need to store frozen burgers, fish filets or drinks, taking this freezer from the SUV and putting in the garage or basement make it a great double act. This compact box has a thermostatically controlled fan and can also be converted from a freezer to a mini fridge.